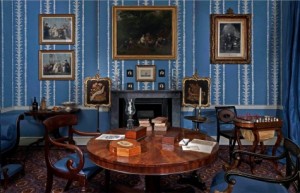 The spirit of philanthropy flows through the Geffrye Museum. Originally, the Museum was a group of almshouses for about 40 pensioners; thereafter it became a furniture and woodwork museum for reference and inspiration, benefiting students studying joinery at the nearby Shoreditch Technical Institute, and people working in the local woodwork and furniture making industries. From the mid 19th century until the 1950s the Shoreditch area was the hub of London's furniture trade.  One could buy richly inlaid cabinets or cheap suites of furniture.
Eventually, for the sake of both pleasure and learning, the Geffrye evolved into a museum devoted to the appreciation of homes, past and present. Galleries were organized so that they would feature furnished period rooms and furniture exhibits.
Another particularly Geffrye benefit is that members of the local community have always been welcome to enjoy the Museum's spacious, landscaped area of grass, flowerbeds and trees at the front. (Once there were fountains and a bandstand.) This is a great bonus in an area where open space is sorely missed, and deep pockets of deprivation overwhelm the few silk-lined ones of gentrification and stylish office refurbishment. Museum visitors number some 113,000; and it's likely that the park-like land in front attracts many more.
The site and construction in 1714 of the 14 almshouses, a central chapel with a bell turret and subsequent purchase of an adjoining burial ground were funded by a trust endowed by Sir Robert Geffrye (1613? – 1703), and administered by the Ironmongers' Company. Sir Robert was once a Lord Mayor of London and twice a Master of the Ironmongers' Company. Controversy arose when, nearly 100 years later, the Company put the property up for sale in order to fund almshouses 'in the country'. The buildings were costly to maintain, the area was becoming 'rough' and city air was not as healthy as country air, reckoned the trustees.
The prospective purchasers, the Peabody Trustees, proposed demolishing the buildings to make way for artisans' dwellings. Members of the public were alarmed by the potential loss of open space and the destruction of an elegant example of civic Queen Anne architecture – the Grade 1 listed structure that we see today.
Fortunately, in 1910, London County Council (LCC), in association with Shoreditch Borough Council, purchased the site and converted the buildings in the eastern block for galleried displays of furniture and woodwork. The Museum opened in 1914. One could visit after college and work as opening hours were weekdays from noon until 9 pm, except Mondays, and from 3 – 9 pm on Sundays. Exhibits of architectural and technical interest came from private sources, such as wealthy businessmen, landowners and the Bishop of Llandaff, and public bodies such as the Victoria and Albert Museum and LCC.
One could view chimneypieces, doorways, staircases, panelling, tables, chairs, ironwork and a carved oak pulpit. Mahogany, oak and pine were the principal woods. There were some quite remarkable pieces such as a marble chimneypiece with detached columns and a central panel illustrating Aesop's fable of the 'Bear and the beehives'; three Adam style pine chimneypieces with raised patterns formed of thin plates of pewter stamped in relief; and carvings by Grinling Gibbons from the organ screen of St Paul's.
The Museum's first 'period' room, an early 18th-century 'cottage interior', appeared about 1930. An image in an article in the Journal of Design History, by Julia Porter and Sally McDonald, reveals what looks like an idealized interior, rather than a typical artisan's dwelling.  The panelling came from a London sitting room. A private collection provided the spinet, English porcelain and pewter.
In 1935, when the Museum came under the jurisdiction of the LCC's Education Committee, the members  – inspectors, teachers and officers – decided to build upon the period room theme. They reorganized the Museum as a series of room settings that would 'represent domestic life from 1600 to the present day'. They wished to serve a wider audience, one which would include school children, the general public as well as craftsmen.
Porter and McDonald explain that after the war, the curators determined to feature displays of 'modern' furniture, which they considered 'within the means of the majority of people' and which would be continually updated, in addition to the period room settings. Furnishings were borrowed from furnishing companies such as Heal's, Liberty and Sanderson. In 1956 an Edwardian room was created featuring pieces by Gimson, Voysey and the Barnsleys, and a telephone and gramophone to note technological development. The curator at the time acknowledged that in reality home furnishings included a mixture of styles, from different periods. Furthermore, the reality of wear, tear, smells and dirt are never key characteristics of historic room settings. In 1974, for the first time, a real room – a dining room from a house in North London –  was transported to the Geffrye. It was interior designed by Gordon Russell, who is considered a 'design pioneer', and Marian Pepler. (There is a Gordon Russell Design Museum in Broadway, Worcestershire.)
Today, the Museum predominantly showcases the parlours, drawing rooms and living rooms (i.e. the main room used by the family for personal and social occasions) of the urban middle classes – the 'middling sort' –  in England, particularly London, of the past 400 years. There are eleven room displays. Traditionally, the 'middling sort' denotes those in business, trade and manufacturing; they were also lawyers, doctors and bankers. While in the 17th century they were a relatively small sector of society, by the 19th century they were leaders in government and the economy, and the Museum considers they had a distinctive culture of interior design. The curators strive for authenticity, which may include replicas. For information they rely on household inventories and accounts, trade and retail catalogues, newspapers, paintings, prints, drawings, photographs and film, as well as diaries, letters and literature.
Room Two is 'A parlour in 1695', in a house built after the Great Fire of 1666. Most houses for the middling sort would be three or four floors, with two rooms on each floor, one at the front, one at the back. Business would be conducted on the ground floor, while the family lived and socialized above. The architectural details are copied from a house built in 1686 in Denmark Street, Soho. The framed panelling and floorboards are pine, which was imported from the Baltic region in large quantities; it was far less expensive than oak. The windows and walls are painted in 'stone'. The fireplace has a marble surround with a curved moulding referred to as bolection. Coal was burned rather than wood. The windows are sash with internal folding shutters. We see a folding dining table and cane chairs with carved and turned frames. The chairs could have been leather upholstered or covered with 'turkeywork' (woollen covers simulating Middle Eastern Rugs) – there's an example in the room. At this time looking glasses  – mirrors – were considered fashionable as were clocks enclosed in tall wooden cases.
Room 5 is a drawing room in 1830, based on a terraced house in Clapham, south London. Panelling by this time was out of fashion. The blue papered walls have a white-stencilled pattern, a replica from a house in Highgate, north London. There are small tables for writing, sewing, playing board games and sketching. It had become the custom to coordinate décor – 'match' textiles, carpets and wall coverings. The term 'interior decoration' had come into usage.
Room 10 is a living room in 1965, based on houses built in Highgate, about 1958.  Town houses built in the 1950s and early 60s were modernist, two or three storeys high. Space was maximized with open plan living areas. Stairs could be in a corner of the living room.  Not all the spaces in the house were defined for specific purposes. Having the kitchen next to the living room enabled constant contact with family and friends. White walls reigned, together with lightweight rugs and curtains, houseplants and low coffee tables. Scandinavian furniture, characterized as functional design for everyone, complemented the architecture. Devoid of the oppressive sense of luxury and opulence, it was unembellished, symmetrical, made with light wood – beech or ash. Room 11 is a loft style apartment, ultra fashionable nowadays and which reflects the 'Minimalist' townhouse interior décor theme.
What we come to realise as we walk through the Geffrye is that modern interior settings, given the nature of late 20th- and 21st-century culture, are no longer so 'class' directed. Social mobility has done away with class-based interior design. One's resources, lifestyle, and senses of style and individualism determine content. We mix Ikea – low budget furniture – with bespoke furniture. Wealthy purchasers may be media supremos who grew up on social housing estates. People with centuries of accumulated wealth may live in tiny damp flats with books piled on the floor and moth eaten armchairs. What will the Geffrye will feature in 100 years' time?
Notes: