Let me tell you a story about how a concrete with brass cube can become as personally valuable as a precious gem or, to put it another way, how a stone can acquire a conscience. The power of remembrance sparks the change.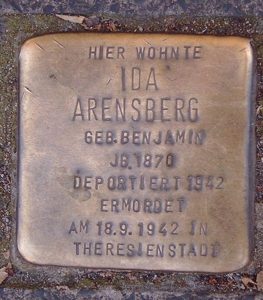 The tale begins in Germany, in the early 1990s, when the Cologne based sculptor and conceptual artist Gunter Demnig endeavoured to memorialise collectively the 1,000 Gypsies who were deported by the Nazis from the city in 1940. He painted a white line through the city showing where decades earlier the Gypsies had been pushed through the streets to the railway station.
"An old lady stopped by and scolded my work, insisting there had never been any Gypsies in Cologne," recalls Demnig. Appalled by her denial, the artist investigated the city's history to find proof that in the 1930s thousands of Gypsies and Jews had lived next door to the Germans in Cologne. Mr. Demnig then thought of the idea of Stolpersteine ("stumbling blocks"), commemorating individuals, which would be embedded in the streets where they had lived or worked.
Mr Demnig explains that "it goes beyond our comprehension to understand the killing of six million Jews…But if you read the name of one person, calculate his age, look at his old home and wonder behind which window he used to live, then the horror has a face to it". Demnig shares a quote that is meant to come from The Talmud (the written version of Jewish oral law): "a person is not forgotten until his or her name is forgotten".
Indeed, if you come to think of it, all over the world, in public and sacrosanct places, there are memorials, be they statues, sculptures or plaques, commemorating people revered as exceptional because he or she has fought bravely in war and battle, enhanced our cultural heritage, exhibited military and statesmanlike leadership, remedied human rights abuse or discovered life changing phenomena. There are memorials in respect of animals that have aided people in battle; one famous one is dedicated to the animals that died alongside the British, Commonwealth and Allied forces in 20th century conflicts; it is located in Park Lane, London. There are statues memorializing literary characters such as Alice in Wonderland, Sherlock Holmes and Tintin.
People, as a group, who have been the victims of appalling degradation, abuse and torture because of their race, religion, physical disability or mental illness, are memorialized. One fine example is the Nigerian born Sokari Douglas Camp's All the World is Now Richer, a steel sculpture commemorating the abolition of slavery, which has been exhibited at St Paul's Cathedral, Norfolk Cathedral, Bristol Cathedral and the House of Commons. The Holocaust memorials cannot fail to come to mind.
However, excepting Demnig's venture, there have been few public memorials (save those of Anne Frank) solely dedicated to an individual, who is not necessarily remarkable in the illustrious sense of the word, but simply a decent human being who was persecuted because he or she happened to believe in the 'wrong' God or religious sect, such as the Jehovah's Witnesses or Mormons, supported the 'wrong' political party, loved someone who was of his own sex, suffered from a physical deformity, lived an itinerant lifestyle, engaged in prostitution, or whose skin was 'coloured' or race considered contemptible. Demnig puts this wrong to right, with his Stolpersteine – "stumbling blocks" –creations.
These cubes of concrete, measuring 10cm by 10cm (4 in by 4 in), are capped with a brass plate engraved with the name, year of birth and fate of the victim (eugenics, euthanasia, extermination or suicide) and embedded into pavements, roadways or among cobblestones very close to where the victim last lived in freedom or worked. The surface of the plaque is flush with the ground. Stolpersteine are hand made and hand embossed by Michael Friedrichs-Friendlander and almost all are, except in certain circumstances, installed by Gunter Demnig.
In 1995, Mr Demnig laid the first 200 Stolpersteine in Cologne, 'unofficially'. It was only in 2000 that he was given official permission by Cologne city council to fit them on public land.
After this first laying of the blocks, word about the Stolpersteine spread far and wide. Indeed, since then many people in Germany and elsewhere throughout Western and Eastern Europe have participated in and continue to participate in the enterprise, which has turned into the biggest project of Demnig's career.
Now, there are over 70,000 "stumbling blocks" in 24 countries in Eastern and Western Europe. Recognising that there are certain cases when hundreds of Stolpersteine could be laid in one place, which is practically impossible, Demnig's alternative is to install a Stolperschwelle – "stumbling thresholds". This records the fate of many in a few lines. Those who suffered as a result of being incarcerated in a particular sanatorium would merit a Stolperschwelle. There is one in Argentina, which was laid at the Pestalozzi School in Buenos Aires to honour its role as a refuge for those persecuted by the Nazis, a home in reality for hundreds of Jewish children. On the plaque is a quote from Margot Aberle Strauss from Hamburg who, in 1938, when she was ten years old, fled from Germany to Argentina with her family and enrolled at the school. "The school gave me a sense of security and made the trauma of exile a lot easier." The Pestalozzi School was founded in 1934 as an alternative to the existing German schools in Argentina, which had become associated with the Nazis.
"[The plaque is] an exception: we usually want to mark the places where the Nazi crimes and persecution began, but we think it's also very important to focus on the places where the people who had to leave their countries were located," Anna Warda, a leading member of the Stolpersteine project, said in an interview with the Spanish news agency EFE, in 2017. These are not meant to be examples of one block, one person, and one name. Admittedly, they memorialize a group.
Local school children and their teachers, victims' relatives and local history organisations undertake archival research in order to find out who once lived in their streets and their homes and raise money for the creation and installation of the blocks. The Stolpersteine cost 120 euros; Demnig can produce about 440 of them each month. It could take nearly a year from the submission of the application for a Stolperstein to the time of installation.
In the New Yorker magazine, Elizabeth Kolbert recalls her encounter with Demnig when she recently went to the installation of a block memorializing her great grandmother: "Demnig has wild gray hair and sad eyes, and he reminded me a bit of Bert Lahr [who played the cowardly lion] in The Wizard of Oz. He was wearing a felt hat, clogs, and khakis, and had a pad strapped on one knee". One can find films on the Internet about the project that portray Demnig installing the blocks and people praying for the victims and giving speeches about the circumstances concerning their persecution. Sometimes there are a few people present for the laying of the blocks; sometimes there are many; some of those attending may have travelled thousands of miles to witness the installation. It is their ancestor who is being named in brass. The installation may be in a quiet side street, or a busy thoroughfare. Deming brings his own tools and concrete for the installation. He works patiently and carefully; one could suggest with gentleness.
Volunteers help to administer and manage the enterprise. Based in Hamburg, Peter Hess, an art collector, coordinates historical research. The concept of the Stolpersteine is protected by copyright and registered as a trademark.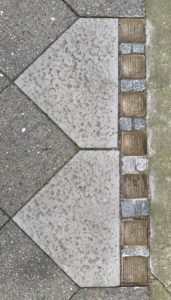 The Stolpersteine can be a cause for controversy. Some of these modest stones have been vandalised since the programme began. One man was caught on camera uprooting a Stolperstein in the town of Boppard, Germany nearly eighteen months ago, although he was not prosecuted. Others have tried to prevent installations in front of their homes, but as, legally, pavements are considered public space, if the council has granted permission for installation, the opponents' efforts are thwarted. Some people find the fact that they are underfoot – in the dirt, so to speak – disrespectful, insulting.
Last year, Wolfgang Gedeon a member of Germany's far right nationalist party, the Alternative for Germany (AfD), wrote "with their actions, the stumbling stone initiators impose a culture of remembrance on their fellow human beings, dictating to them how they should remember who and when…who gives these obtrusive moralists the right to do so?"
Initially, Munich city council rejected the project as an inappropriate means of remembrance, though the Stolpersteine already installed have, since last year, been allowed to remain. In July the city inaugurated a Holocaust memorial initiative of its own. This entails vertically displayed, gold plated, stainless steel plaques, 12 cm x 12 cm (5 in x 5 in), with victims' details and etched portraits. If there is no suitable place on the wall, or the house owner does not agree to the installation, a stainless steel post with a gold plated sleeve can be put up instead.
Naming people is a function of every culture in the world, a defining characteristic of humankind. When we introduce ourselves, the first words we speak are "hello, my name is …" When we hear that a friend's baby has been born, one of the first questions we ask is "what will the baby be called?" We mark, we distinguish and we remember people by their names. If the name of a victim of Nazi persecution is engraved on a Stolperstein, hopefully, not only will the distinguished one never be forgotten but also the horror of how he or she could have been forgotten will remain with us always, never to be repeated again. Would you ever have thought that a cube of concrete could be imbued with a sense of right and wrong?
For detailed information about the Stolpersteine project, including how to apply for an installation, please visit http://www.stolpersteine.eu/en/home/
This article first appeared on The American Hour Blog, March 2019, http://theamericanhour.com/?blog=