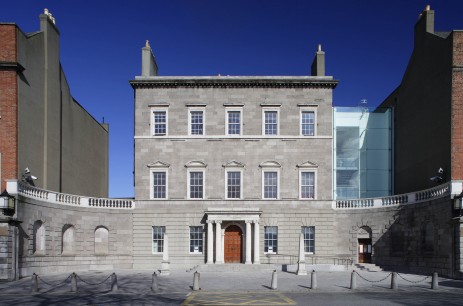 If I asked a British person: 'in light of Britain and Ireland's shared political, social and economic heritage and common language tell me about the modern visual arts of Ireland and Northern Ireland,' they would probably have little to say, even though he or she is otherwise culturally informed. My acquaintance would blush and mutter something like, 'well, I can tell you about the writers, playwrights, Yeats and Joyce, Beckett, the contemporary work of Sebastian Barry and Cólm Tóibín, the poetry of Seamus Heaney, politics, the 'Troubles'…visual art? Oh   I feel so…ah, wasn't Yeats' brother a painter?'
Well, that's the gist of what many of my worldly British friends, acquaintances and colleagues, including art historians, said when I approached them. One, a judge who prides himself on being an arts cognoscente, replied: 'Is there much to say?' Inside, I was apoplectic. But everyone, even the judge, wanted to know more.
Slowly and patiently, modern Irish art, both modernist and contemporary, – is finding its way in Britain (including Northern Ireland), worldwide and at home. There are more educational resources, museums and exhibitions concentrating on modern Irish art and indeed auction sales of Irish art. Undoubtedly, globalization, the years of great economic boom, relative political stability, the weakening of the constraining power of religion and a burgeoning self-confidence all encourage hands to stretch across the sea.
So while there may not be many distinctly Irish schools and movements, the Irish can share an astounding wealth of work exemplifying various artistic developments in the 20th and 21st centuries. These include Impressionism, Post-Impressionism, Surrealism, Cubism, Abstraction, poignant social realism, Expressionism, conceptual art, film, photography and mixed media.
It seems unjust that some well-known Irish artists, such as Francis Bacon and Sir John Lavery, are often thought of as British or English. But they certainly have Irish roots, experiences and frames of reference that have influenced their artistry, which in turn may have influenced the work of other Irish artists. Obviously, the question of national identity can be problematic when it comes to labelling writers and artists, or, perhaps, anyone who has lived or lives in a country other than the one in which they were born.
My knowledge of modern Irish art developed through reading the relatively small choice of literature available, and visits to Ireland. On our last holiday we stayed in a cottage near Kilkenny abounding with catalogues for sales of 'Important Irish Art'. We visited local contemporary Irish art exhibitions held in conjunction with the Kilkenny Arts Festival. Some of the shows were at the local craft school, Grennan Mill, which is located in the converted grain lofts of an 18th-century flourmill on the banks of the river Nore.
By contrast, the most bizarre exhibit I've seen anywhere in recent years is in the Dublin City Gallery The Hugh Lane. It's a painstaking recreation by archaeologists and conservators of Francis Bacon's spartan studio from the years 1961 to 92 at 7 Reece Mews, South Kensington, London. The studio was donated by a close friend of Bacon's, John Edwards, and its presentation was encouraged by the renowned architectural and stained glass artist and painter, Brian Clarke, a friend of Bacon's and executor of his Estate. (Clarke, incidentally, designed the cover of the booklet published to mark the Pope's 2010 visit to the UK.)
Bacon's studio looks as if it has been ransacked by desperate thieves looking for a needle in a haystack. It is a frozen hurricane of chaos. But, regardless, it has provided a rich source of archival material (some 7000 items are noted on the Hugh Lane's data base), including unfinished canvases, medical textbooks, poetry, books about history and art, tools of the trade, such as paintbrushes, paint cans and bottles, household rollers, old socks, shreds of towel and corduroy, rags and cotton wool, the palettes being the studio walls (also transported from London to Dublin). Equally revelatory are the photographs of people and wild animals in motion (in particular those by Eadweard Muybridge), crowds under fire, deformed, diseased and injured bodies, the assassinated, all of which help to evoke Bacon's powerful and distorted human imagery, the antithesis of pleasant tranquillity.
'I feel at home in this chaos…Chaos for me breeds images…I believe in a deeply ordered chaos,' Bacon told interviewer Melvyn Bragg in 1985 in an absorbing South Bank Show video (on view at the Gallery) of conversations exploring the artist's work and methods.
Bacon was born in Dublin of English parents. His mother, Christina, was a steel heiress; his father, Edward, was a former army officer. Bacon grew up mostly at Cannycourt House, Kilcullen, County Kildare, where his father trained racehorses. He left Ireland in his late teens. The late Irish art critic Dorothy Walker noted the prevalence of religious images in Bacon's Irish upbringing. She suggested they inspired 'his early and, to some, his shocking images of the Crucifixion'. An English upbringing might not have been so affecting. She noted Bacon's friendships with the iconic Irish painters Louis de Brocquy (b. 1916 ) and Patrick Swift (1927–83). Perhaps his gambling was evidence of a national character trait, she speculated, perhaps half-heartedly!
Dublin City Gallery The Hugh Lane was one of the first public modern art galleries in the world. Indeed, its opening in 1908, like that of the Abbey Theatre in 1904, was one of the most important cultural events, in Ireland in the early part of the 20th century. The founder, Sir Hugh Percy Lane (1875–1915), was born in County Cork and brought up in Cornwall. He regularly visited Coole Park, County Galway, the home of his aunt Lady Gregory, a prominent figure in the Irish literary and theatrical world. It was she who helped Lane establish his career as a collector and dealer in Irish and international art, notably that of the Impressionists. Lane had a vision of establishing a museum of modern art in Ireland; his collection would be the nucleus. Unfortunately, Lane did not live to see the gallery permanently located in its elegant Palladian mansion in Parnell Square. He died in 1915 on board RMS Lusitania when the ship sank after being torpedoed.
Until 1991, when the Irish Museum of Modern Art was established, the Hugh Lane was the major Irish foundation for modern art. Interestingly, though, it did not have a ring-fenced purchasing budget until 1974. Donations and bequests were its lifeline. The Gallery is especially proud of its contemporary collection of abstract art by living leading Irish artists such as Patrick Scott (b. 1921), Sean Scully (b. 1945) and Sean Shanáhan (b. 1960). Poignant and sensitive work by James Coleman (b. 1941), Jaki Irvine (b. 1966) and Niamh O'Malley (b. 1975) enhance its film work collection. O'Malley's The dene 'vignette' is an almost eerie response to the 19th-century Greensward design for New York's Central Park – an oil painting animated with film.
Visitors will not fail to appreciate the choice selection of Impressionist paintings, such as Sur La Plage by Edgar Degas, Waterloo by Claude Monet, Les Parapluies by Pierre-Auguste Renoir, but what is most enriching is the collection of Irish modern art by iconic figures. Room by room they tell a story. We're educated without opening a text; when we leave we want to find one, see more, share discoveries.
I am particularly drawn to the stunning stained-glass achievement of Harry Clarke (1889–1951) depicting Keats' poem The Eve of St Agnes. The diversity of tones, extraordinary detail and disguised leading makes it looks like a painting. Clarke, Sarah Purser (1848–1943) andEvie Hone (1894–1955) are internationally acclaimed for reviving the stained-glass medium in Ireland.
On Waiting to Go on the Canal  by Camille Souter (b. 1929) is a gentle dream-like canvas in radiant bands of soft colours and textures that flow into one another: sky, hills, fields and foaming mass in the foreground. In the centre one can just see a farmhouse nestling.
The intensity and vigour of Jack Yeats' work, its bold colours and impasto, are startling. From his expressive, illustrative work we learn about the realities of Irish life – the poor and disappointed as well as the comfortable, circuses, fairs, racing. A bare wall fills up most of The Ball Alley – the players stand on one side, spectators on the other, heightening the tension of expectation and uncertainty. (The Jack Yeats Museum, in the National Gallery of Ireland, is a short walk away.)
 I think of modern Irish art as a verdant secret garden, overflowing with seeds, roots, stems, leaves and petals of emeralds waiting to be cultivated further afield. Turn the key in the garden gate and you'll be overjoyed.
Notes:
Leading Irish artists, for reference, include:
Nathaniel Hone  (1831–75)  
Frank O'Meara (1853–88)       
Walter Frederick Osborne (1859–1903)    
Roderic O'Conor (1861–1940)      
Paul Henry (1876–1958)
William Orpen (1878–1931)     
William Leech (1881–1968)
Mary Swanzy (1882–1978)      
Mainie Jellett (1897–1944)
Seán Keating (1889–1977)      
F.E. McWilliam  (1909–1992)
Colin Middleton (1910–85)       
Tony O'Malley (1913–2003)
Gerard Dillon (1916–71)
Patrick Scott (b. 1921)     
Brian O' Doherty/Patrick Ireland (b. 1928): O'Doherty changed his name to Patrick Ireland in 1972 to protest against the killing of civilians in Derry by British soldiers on the occasion of  'Bloody Sunday'.
Basil Blackshaw (b. 1932)
Patrick Graham (b. 1943 )           
Brian Maguire (b. 1951)
Hughie O'Donoghue (b. 1953)             
Eillis O'Connell (b. 1953)
Patrick O'Reilly (b. 1957) 
Kathy Prendergast (b. 1958)                 
Willie Doherty (b. 1959)
To plan your visits to the galleries mentioned, please visit http://www.hughlane.ie/ and http://www.nationalgallery.ie (for the Jack Yeats Museum).
Photograph of the exterior of Dublin City Gallery The Hugh Lane,  courtesy of the Gallery. 
This article first appeared in Cassone: The International Online Magazine of Art and Art Books in the November 2011 issue.