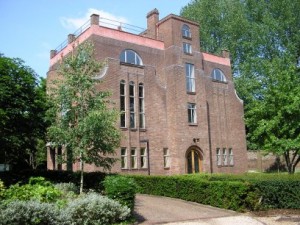 'Dora Gordine? A famous sculptor? No, I'm sorry, I haven't heard …' my friend's eyebrows rise and her head tilts. And then I begin to unravel her intriguing story, rehearsing for an imaginary lecture. Once upon a time…
Dora Gordine (1895?–1991) was internationally renowned as a modernist figurative and portraitist sculptor. During her early career, referring to work she was exhibiting at the Leicester Galleries in London, a headline in the Daily Express read 'Amazing Studies by Girl Sculptor'. Accompanying text remarked: 'no girl of her age has made bronzes of such expressive character and sculptural quality in our day', and the article revealed that 'she took some of her earliest work to the celebrated French sculptor Aristide Maillol and asked him to recommend an art school to her. He answered: "you already know all an art school can teach. Do not go near one. Work alone and you will succeed" '.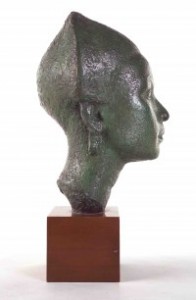 Some years later, the art critic Jan Gordon considered Gordine as 'very possibly becoming the finest woman sculptor in the world'.  Her sculptural prowess was compared by art critics to that of Jacob Epstein. During her lifetime, in addition to the Leicester Galleries, Gordine's work was shown at the Royal Academy and the Tate, among other well-known art establishments; and she was honoured with public commissions.
Organizations as diverse as women's groups and the Royal Asiatic Society frequently asked Gordine to give lectures on Asian art, as her work reflected its influences; and she had lived and worked in the East in the 1930s.  She was a Fellow of the Royal British Society of Sculptors and the Royal Society of Arts and a founder member of the Society of Portrait Sculptors. Gordine attracted admirers from the upper echelons of the political, social, artistic, literary and theatrical spheres the world over, such as Sir Kenneth Clarke, Augustus John and Sir Laurens van der Post. Many of them became her friends, enchanted by her charismatic personality and the exotic 'Russian' aura she exuded (Dora was born in Estonia). Through her second marriage to the Hon. Richard Hare (1907–66), a Russian scholar, she became part of an aristocratic cultural elite that enabled her to network easily and tirelessly.
But the lustre of Dora's story rapidly faded when Richard died from a heart attack in 1966; her joie de vivre and relish for artistic creation gradually withered away. She ceased to work and exhibit, isolating herself at Dorich House (the name derived by combining their names), her stunning modernist home, which she and Richard had designed together. Indeed, despite her historic acclaim, Gordine's endeavours towards the end of her life to find a museum or charity willing to preserve the house and its artwork proved fruitless.  Her renown had dwindled into obscurity. After she died the house fell into disrepair; at one time squatters settled there. Fortunately, the executors of Gordine's estate eventually agreed to give the house and its contents to the nearby Kingston University, which then restored the Hares' home. By chance, a good friend led me to the house and an unusually informative tour. I was captivated, compelled to learn more.
Oddly, Gordine's early life remains an enigma, possibly because she meant it to be so. Did she wish to hide her Jewish roots for fear of persecution, being stigmatized? Did she yearn to mask her bourgeois upbringing in order to sculpt a more glamorous, beguiling image? (Her father, one critic suggested, might have been an architect, her brother a civil engineer.) She was never really clear about her date of birth, though it's likely to have been 1895; her place of birth was most certainly Libau, Estonia. It appears that she and her three siblings enjoyed a happy childhood; they were well educated and spoke German, French and Russian. Dora probably ventured to Paris in 1920 to study music and then discovered sculpture, encountering the influences of African and Oriental art upon the visual and performing arts. When she first exhibited at the Salon des Tuilleries, she was widely praised, particularly for her head of The Chinese Philosopher. A famous collector of modern and oriental art, George Eumorfopoulos, encouraged the exhibition of her work in London, which led to an exhibition in Berlin. There the seeds of a likely commission from the British government in Malaysia were sown.
This inspired her Far East travels and her first marriage to the physician to the Sultan of Jahore, Dr. G.H. Garlick.  As she travelled throughout Java, Bali, China and India, Gordine persuaded aristocrats, wealthy colonials and  'ordinary' locals, such as the  'beautiful but melancholic' young woman she discovered in a lunatic asylum, to model. In 1935, after her divorce from Dr' Garlick, Dora returned to Europe. In 1936, she married Richard Hare, whom she had met through friends years before. He had bought a couple of her sculptures at exhibitions.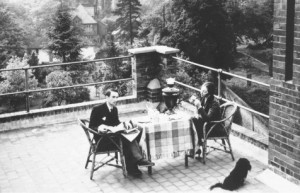 Richard was the perfect companion. His calm demeanour complemented Dora' s somewhat overwhelming exuberance. With Dora he found loving acceptance of his restrained nature; he had never shared the defining interests of his aristocratic forebears in field and country sports, instead preferring his books, the cerebral life. He had been sent to Rugby – perhaps this reputedly tough boarding school would toughen him up? But Richard's rewarding friendship with the Vaughans, the headmaster's family, fostered his innate interests, encouraging further education at Oxford. He graduated with a first in Politics, Philosophy and Economics. Through one of the Vaughan daughters he befriended the 'Bloomsbury Set' and Dora – he was smitten! Alas, Dora rejected his first marriage proposal.
Richard joined the Diplomatic Service, which appreciated his facility for languages. He worked as a Third Secretary at the British Embassy in Paris, while continuing to collect art. A small inheritance financed travels to East Asia, where he again met Dora. Despite her marriage to Dr Garlick, the two became very close, and this no doubt encouraged their eventual union.
During the Second World War, Hare worked for the Civil Service as Director of the Anglo-Soviet Relations Division. After the War he translated works of Russian writers, such as Ivan Turgenev, and wrote books and articles about influential Russian literary, political and intellectual figures. He was a guest lecturer on these subjects in America. In 1962 Richard was the first person to be appointed to the Chair of Russian Literature at the School of Slavonic and East European Studies. He and Dora collected Russian art and furniture, which they displayed at Dorich House.
Modernist in theme, Dorich House was regarded as quite unusual and was featured in Country Life, The Lady and Ideal Home. Earlier projects for houses, such as Dora's Parisian studio home and The Round House (so called because of its circular and round form) in Singapore, and the Hares' unrealized scheme for a home in Hampstead, north London, had a great bearing on the design of their dream house.  Each house was planned to provide gallery, working and living spaces and distinguishing factors included reinforced concrete and brick facades, metal window frames, arched, semi-circular and circular windows, flat roofs and roof gardens.
In all their house plans, the most elaborate and dramatic architecture was reserved for the public space while the domestic sphere was characterized by the use of textiles, Chinese furniture and multi-functional geometric furniture (combining storage, shelving and seating, for example) designed by Dora, and (in Dorich House) the display of sculpture and Russian art. Neutral colours, natural wood floors and the absence of frivolous ornamentation suggested a Spartan sensibility, although the interiors were comfortable and allowed for much daylight.
The beauty within is what mattered above all, rather than exterior splendour. Indeed, the exterior of Dorich House is rather severe, fortress like, threatening rather than inviting, unlike its owners. Brenda Martin, the curator, describes the house as a 'personal negotiation of Modernist principles'. The architect with whom Gordine worked in Paris, before her marriage to Hare, was Auguste Perret, and the second with whom both she and Richard worked was Godfrey Samuel. Both architects were acclaimed for their modernist buildings.
Today Dorich House does not look exactly as it would have done when the Hares lived there; not all the furniture and fittings are original though the bones of the structure are still intact and the differences are very much in keeping with the couple's design ethos and style. (Some of the furniture did deteriorate beyond repair.) On view are many of Dora's stunning sculptures and artworks from the Russian collection. In the roof garden, we still enjoy the splendid views over the treetops of Richmond Park.
The space and serenity of the setting makes part of me hope, selfishly, that Dorich House remains a relative secret, compared with many once-private houses now open to the public. This would mean, though, that the Hares and their achievements would be but buried treasures, their whereabouts known only by the deer in Richmond Park and a select few.
Notes:
Although Dora also painted, her distinguishing work, by far, is sculpture. This includes bronze and plaster heads and figures, small and large scale. It is traditional and yet personal, combining Eastern and Western artistic influences, different schools and periods: attractive and slightly animated; there's no sense of the static. The spirit of humanity enthuses, rather than that of angst or the tortuous. Her work doesn't shock; nor does she intend it to – painted steel minimalism would be almost an anathema to her.
Sir Anthony Caro has said that Gordine's sculpture 'has a serenity, a steadiness…It may not seem so very extraordinary to us nowadays, but when we place her work against that of the much more successful academic sculptors of the time [1940s] it is a million times better'.  Her  Mother and Child  (1962–3) for the entrance at the Royal Marsden Cancer Hospital, Sutton, Surrey, springs to mind especially in this context.
Once again Gordine's work is being shown, perhaps thanks to the opening up of her home. There have been recent exhibitions at the Ben Uri Gallery, Worthing Museum, and Newcastle University in Britain, and at the Adamson-Eric Museum in Tallinn.
Photographs of Dorich House, Guadaloupe Head by Dora Gordine, and Dora and Richard on their rooftop terrace, all courtesy of Dorich House. 
Special thanks to the curator, Brenda Martin, for all her help. 
This article first appeared in Cassone: The International Online Magazine for Art and Art Books in the October 2012 issue.