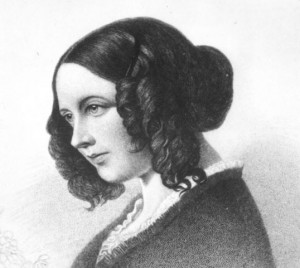 The memory of Catherine Dickens, the wife of the distinguished Charles, hides in the shadows of her great husband; her accomplishments are miniscule compared with his. Yet Catherine merits a place in history in light of the companionship the couple shared together when they lived as husband and wife. She was a loyal, supportive friend, the 'model Victorian wife', managing a welcoming, congenial household and all the while bearing ten children.
"As they grew into their marriage, [Catherine] held Dickens' confidence, discussed his work, and very capably oversaw the housekeeping and social duties," believed Dickens scholar Michael Slater (as noted by Susan Rossi-Wilcox in Dinner for Dickens).
"Mrs Dickens is a good specimen of a truly English woman; tall, large, and well developed, with a fine healthy colour, and an air of frankness, cheerfulness and reliability. A friend whispered to me that she was as observing and fond of humour as her husband," remarked Harriet Beecher Stowe recollecting when she and her husband dined with Catherine and Charles Dickens at their home.
Alas, when Charles left Catherine, after 22 years of marriage, for his young mistress, Ellen Ternan, he deliberately cast his wife in an unflattering light. No longer would Catherine play the supportive role Dickens had reputedly praised. Moreover, in league with Dickens, as Rossi-Wilcox suggests, "loyalists pounced on any evidence that would make Catherine appear as an albatross around the genius's neck, and from whom he finally had to free himself. She has been faulted for being an incompetent homemaker, a lacklustre companion, and a poor mother by many, including Dickens himself".
Undoubtedly, the unappealing picture Dickens sketched helped to save his reputation and justify his betrayal. The great and the good tend to 'get away with murder' because we stand in awe of their accomplishments.
The Other Dickens: Discovering Catherine, an exhibition at the Charles Dickens Museum, corrects the displeasing image of this "good specimen of a truly English woman" (actually Catherine was Scottish by birth, but Stowe was not to know). It sets the biographical record straight; it debunks the myth.
The exhibition is curated by Professor Lillian Nayder, Professor of English at Bates College, Lewiston, Maine, and based on her 2011 biography of Catherine, The Other Dickens. As Nayder explains: "when Charles and Catherine separated, he characterised her as an unnatural mother who shirked her maternal duties". He had the connecting door between their bedroom and his dressing room boarded shut, so that he would have his own bedroom, and then formally separated from her, announcing in a newspaper advertisement in June 1858 that "some domestic trouble of mine of long standing" has been resolved.
"The break," believes Nayder, "was a classic mid-life crisis. He was remarkably youthful still, and she had had 10 children and several miscarriages. It was a terrible thing. Several of the men in their circle had quietly maintained mistresses, but forcing his wife out of her home [Catherine agreed to leave the family home in London at Tavistock House to live in Gloucester Crescent] was an extraordinary act which Charles then had to do everything to justify in public and maintain his own reputation. She never defended herself, never wrote or said a word against him in public… his claims are readily disproven by Catherine's behaviour, by the evident affection between her and her children and by Dickens's own statements to the contrary about his wife".
Dickens also promoted the publication of Catherine's cookbook What Shall We Have for Dinner? – a collection of menus and recipes, some lavish and some quite practical with leftovers as ingredients. Several editions were published. The contributions reveal Catherine's Scottish culinary heritage, and her taste for European and North American dishes, which was inspired by the couple's travels abroad.
The exhibition showcases rarely seen exhibits concerning Catherine's life, including personal items and letters, with well written informative panels. Excerpts from her last will and testament are written on the hallway walls. Some exhibits are featured in a special exhibitions room while others are placed in the permanent display rooms, which focus on Charles Dickens and the family. The Dickens family lived in the museum's Georgian terraced house, 48 Doughty Street, from 1837 until 1839.
Among the displays is a handkerchief, which belonged to Catherine and may have been used to administer chloroform to her when she gave birth to her son Henry in 1849. Chloroform was a controversial subject at the time, being new to midwifery. The anaesthetic was also criticised on biblical grounds because it was believed that "pain in childbirth was part of Godly punishment for women". It was Charles who insisted that chloroform be given to Catherine: "it spared her all the pain".
We see Catherine's own photographs of the Dickens' children. Katey, Catherine's second daughter, felt strongly that her mother had been ill regarded by her father. When Catherine was dying she gave Katey the letters she had received from Charles; she deposited them with the British Museum as her mother had wished. Catherine bequeathed the turquoise snake bracelet of hers on display to Katey. (Charles burned all of Catherine's letters to him).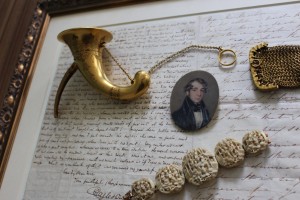 In one glass case there is a miniature of Charles Dickens on ivory with a lock of his hair pasted on the back, which Charles gave to Catherine upon their engagement. She in turn gave him the gold chain purse we see. The tortoise shell card case, placed nearby (not shown in picture), with mother of pearl inlay, was Charles's present to Catherine upon marriage.
Catherine was born in 1815 into an intellectual and cultured Scottish family living in Edinburgh. She was the eldest of ten children. Her father George practised as a lawyer and was the son of a prosperous Berwickshire farmer. George was a friend and confidante of Sir Walter Scott. In 1834, the family moved permanently to London where George worked as music critic; he is credited with several major books on music including Memoirs of the Opera in Italy, Germany and England.
George Hogarth and Charles Dickens became friends when they were both working on the Evening Chronicle, where George was co-editor. Charles met Catherine when he was invited to the Hogarth family home in Fulham. We know that Catherine was an avid reader, a good piano player and highly skilled in needlework. Catherine and Charles eventually started courting and the couple were married in 1836 at St Luke's Church in Chelsea. From this day onwards, their initially contented married life was filled with social and literary engagements at home and abroad and the concerns of a busy and growing family household, all of which complemented, rather than hindered, the ever developing literary career of the great man.
During her marriage and thereafter Catherine enjoyed the company of the wives of her husband's male friends, such as Nelly Lemon, the wife of Mark, the editor of Punch. She also befriended aspiring women writers and artists such as Abby Hutchinson, a well-regarded American singer. After the couple separated, Catherine continued to called herself Mrs Charles Dickens and follow her husband's writing career. She wrote to his publishers asking for monthly instalments of his new novels.
We sense Catherine's physical presence by listening to a series of six audio recordings placed throughout the house. Sound artist Felicity Ford created the sound trail. The middle class Scottish accent of Rachel Moffat, the voice actor who portrays Catherine, is quite convincing. We hear extracts of texts penned and read by Catherine, be they letters, recipes or children's poetry, and music composed by her friends and her father. We listen to Catherine breathing, sniffling, turning pages, writing with an ink pen, counting out the squares of a needlepoint canvas and noting colours, such as honeysuckle yellow. Children chatting, birds chirping, clocks ticking, rain falling and horses' hooves walking upon cobblestones evoke the sounds of Catherine's every day. In the kitchen we hear metal upon metal, spoons mixing the batter for Eve's Pudding.
The exhibition grants Catherine her own place in history. It rightly sheds light on her and also what life was like for many married middle class Victorian women who were Lady This or Mrs That but rarely Ms. In our time, Catherine would not be so accommodating; she might capitalise on his fame and become a celebrity chef. What do you think?
Notes:
The exhibition runs until the 20 November 2016. 
For more detailed information, please visit http://dickensmuseum.com/blogs/exhibitions/100668038-the-other-dickens-discovering-catherine-dickens; the house is decorated and furnished as the Dickens home might have looked, with memorabilia relating to Charles Dickens' professional and personal life. Next door, in the adjoining house, are a gift shop and a pleasant café. Refer also to Lillian Nayder's The Other Dickens – A Life of Catherine Dickens, Cornell University Press, 2011, and Dinner for Dickens – The Culinary History of Mrs. Charles Dickens' Menu Books by Susan M Rossi-Wilcox, Prospect Books, 2005. This book includes a transcript of the 1852 edition of What Shall We Have For Dinner? by 'Lady Maria Clutterbuck', together with additional recipes in the appendix to the 1854 edition. The book was attributed to Lady Maria Clutterbuck, a pseudonym for Catherine, though the preface by Lady Clutterbuck in the 1852 edition is considered to have been written by Charles Dickens.
The images of Catherine Dickens and the mementoes are © Charles Dickens Museum.