When I first saw The Second Shelf I felt as if I had come across a gingerbread house in an enchanted forest. It is located in the midst of bustling Piccadilly Circus in a tranquil courtyard with olive trees; and it looks very pretty. The Second Shelf, however, is not part of a charming fairy tale; rather it is a member of a feminist mission to bring more female writers into the literary canon.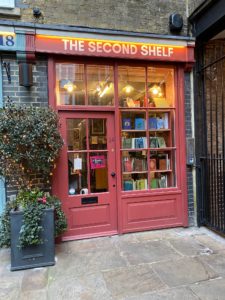 What distinguishes The Second Shelf, which is owned by American born and bred Allison Devers, is that it sells antiquarian, rare, first editions and second hand books by women. (There are some books authored by men about women and their achievements.) Unusually, for an antiquarian bookseller, The Second Shelf promotes first edition book signing events in the shop by contemporary female writers. Buying one of these signed first editions is a great way to start collecting, suggests Devers. At the moment, there is no business quite like The Second Shelf in the antiquarian book trade.
Most of the store's inventory is modern fiction, that is to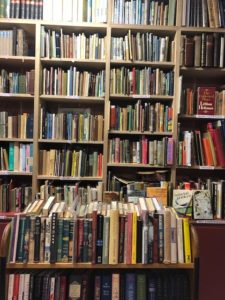 say fiction originating in the late 19th, 20th and 21st  centuries, but there are also poetry and plays by women, books written by women about politics, history, travel, gardening, fashion, cookery, film, photography, drama, dance, music and books focusing on women involved in these worlds. A book may be valued because its illustrations are by women. Also appreciated are paperbacks, Penguins and Vintage Virago, authored by women.
At The Second Shelf we can purchase branded tote bags, bookmarks, and paintings, prints and watercolours created by women, and a journal borne by the enterprise, The Second Shelf: Rare Books & Words by Women. Each issue (there have been two so far – alas, ironically, the first edition is out of print) is a catalogue of some of the stock with contributions by contemporary female writers focusing on the work of other living female writers and those who have or deserve a more robust literary legacy. There are essays about writers such as Sylvia Plath, Sylvia Townsend Warner, Angela Carter and Pamela Colman Smith. The latter was an artist, folklorist and an occultist. She is distinguished, among her other achievements, for the fact that she was the illustrator of the most popular tarot card deck. For £40 one can buy The Original Rider Waite Tarot Deck. Sadly, Smith died in poverty in Cornwall, a 'forgotten' woman, despite having exhibited throughout Europe and America and illustrated books by writers including WB Yeats and Bram Stoker. Most illuminating is a feature about conserving the first edition of The Voyage Out, Virginia Woolf's first published novel. The actual book was her sister Vanessa Bell's copy and bears her ownership signature. It available for £12,500.
The shop is tiny, about 300 square feet. The some three thousand books rest on wooden shelves, a trolley and in Edwardian and barristers' old bookcases.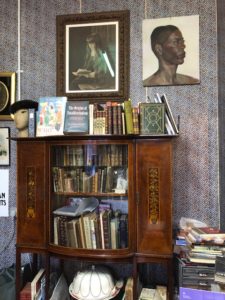 The walls are covered in leftover stock of marbled vintage endpapers (also used as wrapping paper). Anonymous portraits of women hang randomly on the walls.
The story of how and why the venture came to fruition is a revelatory tale.
Devers' father was in the US Air Force, and so her family moved from posting to posting throughout America in her early life. Devers attended university in America where she read English literature and archaeology. For a brief while she worked as an archaeologist and then embarked on a combination of careers as a bookseller, arts critic, journalist and writer.  In 2010 she founded Writers' Houses, an online publication about dead writers' houses – a 'field'  guide – which can be explored through references to author, city, state, and country. (The site is online but not 'running'.)
Years ago, while Devers was working and writing for A Public Space, a book publisher and publisher of the eponymous journal, she was also writing about rare books; from time to time she bought second hand books and the odd first edition by a favourite writer for herself and as presents. She enjoyed, in particular, forays to the highly acclaimed Honey and Wax Booksellers in Brooklyn, founded by Heather O'Donnell, who is considered a guiding light in the book trade because of her expertise and her inspiration to women in the trade.
One day a 'revelation' occurred to Devers when she happened to be visiting a friend's stand at an antiquarian books fair in New York in 2015. She recalls that there were not many women working and buying at the fair, and that many of the books she looked at that were by 'applauded' women writers were priced at less than their 'applauded' male contemporaries. She remembers a first edition by Joan Didion being priced at $25, while a first edition by Cormac McCarthy was priced at $600. Why was there such a discrepancy in price? Moreover, there were fewer books by women than men on the shelves.
Devers has written "holding the two books in my hands, something crystallised in my mind that had never occurred to me before: that book collectors help determine which writers are remembered and canonised, and which are forgotten. The collector trade is a part of a supply line, to readers' bookshelves, universities, archives and libraries. Historically it has been male-dominated, white, and oriented around a western canon… Women, particularly women of colour, are left under-recognised, their books deemed less collectable and given less space on shelves. It wasn't long after that I had the idea for The Second Shelf." If there were more women collecting for private and public collections, the breadth and volume of the legacy of women's writers would be enhanced.
"If most of the dealers are male, and they are focused mostly on books by men, and their main clients are book collectors with deep pockets who build collections that may eventually get donated to a library or other public institution or universities, and they are only seeing books by men, then that is a problem," Devers believes. Indeed, the term 'bookman' is still used in the rare book world to describe both dealers and collectors of these treasures. Devers once opened an email addressed to members for a rare books association, beginning with "Hello fellow bookmen".
Devers believes that her bookselling experience supports the widely-shared precept that explains a lot about how the publishing market works. "Women buy and read more books than men. Women buy and read books by men and women. Men buy and read fewer books – and they don't buy or read women."
Devers does not mean to offend male readers. "I know plenty of men who buy and read women. But I also know plenty who don't. The lore is not wholly true or untrue, but unfortunately it informs how women's writing is marketed and sold. It is part of the reason why so many women have gendered covers, books that aren't viewed as "chick lit" by their authors being sold as such, and it keeps women's work from being read by men – and bookmen."
Before opening an actual shop, Devers determined to open an online resource for antiquarian and other rare books by and about women and publish a literary journal and part catalogue. Then, out of the blue, she was offered the opportunity to open a shop. Supporting her young son and finding her way  in a 'new' country is not an easy task. Settling in London is a prudent move, as  there is a longer history of both rare bookselling in England and a higher concentration of antiquarian book shops here than in America.
In light of gender imbalance in the trade, fortunately there is a fast growing trend of women here and in America and Europe involved in the antiquarian book trade at a senior if not ownership level.  At a talk at the London Book Fair in May 2018, Debra Coltham, a member of the council of the Antiquarian Booksellers Association (ABA), and owner of DC Rare Books in Sevenoaks, Kent, commented on how many women dealers are "operating at the top of their field".
For reference, I note that the ABA was founded in 1906; and it is the oldest organisation of its kind in the world. It is the senior trade body for dealers in antiquarian and rare books, manuscripts and allied materials in the British Isles. Many of the leading booksellers overseas are members.
Coltham believes that for "those in the know: those who really count and matter – i.e. our customers and those that we all sell to individually, be they private, institutional, aristocrat or student, museum chief, special collection head, celebrities, or perhaps even Royalty – our gender is not an issue. What matters to them is our expertise, wealth of experience and knowledge, honesty and integrity. As women in the book trade – we have those qualities in spades". Rebecca Romney, a bookseller working with Heather O'Donnell (see above) has reportedly emphasised that "the first thing to acknowledge [is] the women that are already here and have been doing really great work for a really long time". The 'drawback', O'Donnell believes, is that the major generalist firms "still steer much of the market…all this buying power of the big firms, and all this institutional history at those big firms, continues to be directed by men. Individual book dealers, as excellent as they are…[are] always going to be scrappy, smaller players in the market".
One significant sign of changing times is a recent donation given to Duke University's David Rubenstein Library. Lisa Unger Baskin spent 45 years acquiring materials—books, letters, journals and artefacts—about women's influence in the intellectual and physical workforce, spanning from the Renaissance to the modern era. The purpose of the Lisa Unger Baskin Collection (a sixteen thousand piece collection) is to call attention to the erasure of women's labour. The collection boasts the most complete volume of Susan B. Anthony's women's rights journal The Revolution, which provided a platform for discussing sex education, rape, domestic violence, and reproductive rights; a collection of the papers of an activist in the Anti-Slavery movement, Elizabeth Blackwell,  the first woman to receive an M.D. degree from an American medical school; and Virginia Woolf's writing desk. Baskin is one of a number of women who have been collecting books overlooked by male collectors.
A year ago, Peer Harrington, a major international antiquarian bookseller based in London, celebrated its 50thanniversary in 2019 with the opening of In Her Own Words,  an exhibition of 180 "remarkable books" by women, available from £100 to £200,000. What made the exhibition all the more pertinent, believed the firm, was that it was launched just ahead of International Women's Day on March 8, one year on from the centenary anniversary of women being given the right to vote if they were over thirty and met other criteria. (Universal suffrage was granted in 1928).
There are seminars  offered in Britain and the US providing training for those who would like to step a foot into the trade and those who would like to refresh their knowledge. There is the reputable Colorado Antiquarian Book Seminar, for example. The London Rare Books School (LRBS) offers a series of  five day intensive courses on a variety of book related subjects. The international League of Antiquarian Booksellers (ILAB) has recently launched a mentoring programme. In Europe there are other relevant courses, too.
For women only, The Second Shelf awards a range of scholarships with differing terms and criteria for the York Antiquarian Book Seminar. Indeed, the Antiquarian Booksellers Association of America (ABAA) has established a Women's Initiative, a programme meant to establish policies that work toward gender equity, adjust recruitment methods and offer networking opportunities for women in the trade. Honey & Wax Booksellers has established an annual prize for American women book collectors, aged 30 years and younger.
When I stepped into the antiquarian book realm and contemplated gender imbalance within it, I learned so much about the trade itself and how it can be more relevant  to readers and collectors in the 21st century. Maybe I might start collecting! I am always hungry for books. Maybe you will join me? Thank you, The Second Shelf, for opening my eyes to the pages left out.
***
What is an antiquarian book? What is a rare book? What is a first edition? The most helpful explanation I have found is that by Tom Congalton, the owner of Between the Covers Rare Books Inc. (www.betweenthecovers.com), an online business based in New Jersey, which was established in 1985. It has been described as one of the largest rare book inventories in the world . Tom Congalton has been a president of the ABAA and the ILAB.  I am grateful to Mr Congalton for his expertise.
Congalton says, "there are probably a million technical answers to these questions". Antiquarian refers to antiquaries or antiquities, "or in short, old stuff and/or the people who sell it".  Rare in the trade means extremely uncommon… " 'Rare' and 'antiquarian' can be qualities that are encompassed in the same object, but that is not always the case. These qualities can be mutually exclusive – old books aren't necessarily rare, and rare books aren't necessarily old. Antiquarian, in the collectible book trade, is an imperfect term that describes the entire scope of the trade, even though the term may apply to dealers in relatively modern books, as well as to the hunchbacked and curmudgeonly 'antiquarians' dealing in hoary and musty old tomes." Antiquarian books are not valued strictly as vessels of the content inside. A first edition, strictly speaking, is "first everything -first edition, first printing, first state [before the print type set up has been changed for the sake of corrections], first issue, first binding…".
Notes:
For more information, please visit https://thesecondshelf.com/. This article first appeared in The American Hour Blog.