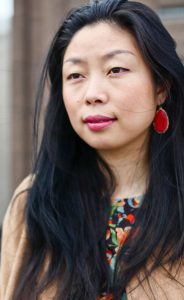 The documentary Hooligan Sparrow is not a beautiful film, of scenic, breath-taking splendour; there are no great moments of intimate, eye watering poignancy, though there are parts that will make you very, very angry, laugh and cheer. The story is disjointed; it chops and changes, seemingly convoluted at times, yet there is a presiding theme, which touches, if not infiltrates, the lives of women all over the world: female sexual exploitation for pleasure and money, in which men take the leading role with female supporters. An underlying theme, the abuse of human rights in China, is ever present.
Repressive regimes, such as that of China, tend to turn a blind eye to the horror of systematic sexual abuse (unless it is politically viable not to); campaigning against specific cases and in general invites harassment, interrogation and imprisonment. Fortunately, social media, the mobile and the digital camera are passages to justice. They cannot be silenced. Once cannot jam the digital camera permanently.
Chinese Nanfu Wang's film is situated in China. It focuses on an event, a women's rights activist, Ye Haiyan (aka Hooligan Sparrow), an esteemed human rights lawyer, Wang Yu, and the interwoven issues of sexual exploitation and sex workers' rights. Those putting the world to rights are persistently intimidated, threatened with abuse, abused and detained. Some of their family relatives are hounded as well.
We travel for the summer of 2013 with Wang, Sparrow, Yu and a group of activists to Hainan where there is news of a sex scandal. An elementary school principal brought several girls, aged 11 to 14, to a hotel to stay with a government official who raped them. The death penalty is the punishment for rape, while for child prostitution the sentence is five to fifteen years. Thus, if the rapists claim they paid their victims, they can 'save their necks' (death is by lethal injection or shooting). As one reviewer highlights, Yu, the human rights lawyer working with Sparrow, believes that "the government is so corrupt that it's become fashionable to sexually abuse young girls, thanks to the child prostitution law loophole". Wu believes the girls were bribed in this case. The men claimed they paid the girls, which justified the lighter sentences they received.
Sparrow does not shy away from using provocative means to call attention to injustice, such as using her own nudity in videos and images, and offering sex for free to migrant workers to call attention to the appalling conditions for sex workers. We see her working steadfastly and boldly to highlight the alleged abuse of the girls. An image of her with a cheeky sign: "Hey, Principal, how about a night with me instead of those girls?" goes viral. The police and undercover agents begin a silencing campaign. They hire thugs to harass her, arrest her for assault when she is attacked and falsify evidence. She and her teenage daughter are evicted from their flat and hotels; eventually they are left homeless on the street. Despite the chaos, Sparrow is unflappable. She will not stop hammering more nails in the coffin of sexual exploitation. "You can kill me, but you can't kill the truth, could be her motto." It is not surprising that she is prohibited form leaving the country.
Another member of the cast, Wang Yu, a human rights lawyer, campaigns along with Sparrow, with equal fervour. Yu has been involved in cases concerning disability discrimination, religious freedom and the abuse of land rights. In June 2016, Yu was awarded the twenty-first prestigious Ludovic Trarieux International Human Rights Prize. (The first prize went to Nelson Mandela in 1985. Tarieux was a French lawyer and Republican statesman, a prominent Dreyfusard and international rights campaigner.) The award is hailed as "the most prestigious prize awarded to a lawyer in Europe". Wu and her family are under constant surveillance.
In the film, Wu tries to ensure that the case is treated as rape. The parents of the girls are afraid of fighting with her because the government was intimidating them: keep quiet is the message. Some of the girls were so traumatised that they tried to commit suicide.
Nanfu Wang goes to extreme lengths to capture the story. Her camera is always under attack. She shot her film on a small DLSR camera, a point and shoot camera, and a tiny camera mounted on a pair of eyeglasses. Some of the footage is confiscated; at one time her memory card was erased. Wang is reported as saying that her sense of paranoia became so strong "that it became comical…Several times while filming with Sparrow, I would hear a knock at the door and quickly hide my camera, but it would turn out to be people we knew, and we would all laugh". The sense of fear lurking is heightened by the sharp, hounding intensity of the music composed by Chris Ruggiero. Some of the subjects who appeared in the film have been imprisoned or prevented from leaving China. The footage had to be smuggled out of the country. It can't be helped that the weaving together of the jarring fragments of audio and footage give the film a rough quality. What is it like to film under a state of fear?
The documentary did not remain under cover. The film premiered at the Sundance Film Festival in January 2016, and it has been shown at fifty festivals in twenty countries. It has won a highly respected Peabody award.
I saw the film recently when it was screened for the celebration of the fifteenth birthday of The Rights Practice (www.rights-practice.org), a charity promoting human rights in China. The organisation supports human rights defenders, advocates for fair trials, provides training for working in international human rights law and encourages public participation in policymaking, particularly among women and marginalised groups.
Wang's film – her first feature – is a tribute to the charity's goal, and is itself a remarkable achievement, at the least because of the odds against its unusual route to creation, and what it helped to highlight: the injustice of sexual exploitation and the abuse of human rights in China.
How Wang came to be a filmmaker is also an extraordinary accomplishment. She was born in a farming village in Jiangxi Province. When she was 12 her father died from ill health (he was only 33), and Wang had to abandon formal education in order to help support her family. Eventually, she had the opportunity to attend a vocational school in order to become a primary school teacher at sixteen. When she was 22, Nanfu was awarded a fellowship for a graduate programme at Shanghai University, where she studied English language and literature. There Wang realised that she wanted to tell the stories of people who were living on the margins of society, as she had done. Afterwards, she studied film and journalism in masters' programmes at Ohio University and New York University. Nanfu Wang lives in New York. Her latest film is I Am Another You. The documentary is described as the story of Dylan Olsen, a man in his early twenties from a solidly middle class family, who defies conventional expectations of his background, and lives a nomadic life. Dylan reveals that "eating, happiness and community" are his goals. Yet, Dylan is not so contentedly carefree. Growing up in a Mormon community was not a life enhancing experience for him. He has been involved with drugs. As an empathic, sensitive person he can see "things other people can't see".
Through her work, Wang has shown that she sees "things other people can't see", literally and metaphorically. She sharpens our sensitivity and empathy towards the dispossessed, whether this is in a spiritual or political context. I can't help feeling proud of her being a member of the 'second sex'.
Picture above: Nanfu Wang, the director of Hooligan Sparrow. Courtesy of the Human Rights Practice.