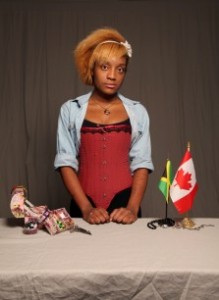 Inspired by the London Olympics 2012, Stories of the World is a dynamic programme that encourages young people across Britain to develop their own museum exhibits and projects.
'Something for old people, that's how many of my peers see museums,' says Sophie Grant-Vaswani, aged 17, a Young Consultant and Youth Advisory Panel Member with the Geffrye Museum in east London. Sophie is working hard to change this image as part of a nationwide volunteer programme, Stories of the World. The scheme enables young people to work with museum staff, developing and marketing exhibitions, workshops and events. They are discovering fresh ways of interpreting and presenting the collections to attract a young audience.
I am sitting with Sophie and Elvis Miranda, another volunteer with the London Transport Museum (LTM), in the entrance hall of the Museum of London. Soon many of the London volunteers will arrive to celebrate achieving more than 3000 hours of volunteering in 23 museums across 17 boroughs. Broadcaster Miquita Oliver will interview volunteers at the end of the evening.
We talk about the ethos of Stories of the World. Museum curating is not a static business; it is creative, innovative and relevant to the everyday rhythms of life. Museums can play a major role in the local economy, stimulating creative enterprise.
Stories of the World is at the heart of the Cultural Olympiad, which links up culture and sports for the London Olympics 2012. From Northern Ireland to Devon the project involves over 50 museums reaching out to young people, aged 14 to 24, from a wide range of backgrounds. Their achievement will culminate in several major exhibitions held during the Olympics in London and the regions.
Stories of the World is distinctive in providing new ways of learning, far away from the prescriptions of the National Curriculum, lectures and exams. Elvis especially appreciates this aspect. His face lights up as he shares his thoughts. He is a bit self-effacing and hesitant at first.
'I'd dropped out of college just before I joined the programme.  I really wanted to be a photographer. I'd had very little experience of museums, but now I see how museums can be part of daily life, and offer a new learning experience.'
Elvis says that museums are never just about objects, but are a collection of stories about our past, revealing why we live the way we do today. 'A bus is not just a bus;' its design and layout have a great bearing on its function, he explains.
The programme has given Elvis the confidence to follow what really interests him as a career. 'Producing and directing videos has helped me learn more about photography. I've been given quite a lot of responsibility at a senior level, being involved in recruiting artists for exhibits, such as the Bus Shelter display project, leading focus groups, planning workshops with young people, thinking up strategies to get more young people involved in museums – and keep them involved. Stories of the World has made me what I am today, what I want to be. I'd have gone crazy without the opportunity', he declares.
Indeed, the film Team Awesome and The Big Museum, written, directed, filmed and edited by Elvis with three other volunteers, in association with Chocolate Films, is extremely entertaining – in fact, 'awesome'. The theme explores how several Young Consultants convince the LTM that young people have a right to be heard and included in the museum's work.
Both Sophie and Elvis agree that, when it comes to applying for jobs, the skills they have acquired should put their applications at the top of the pile. Stories of the World is great for the CV. 'Few people will have the same skills as me,' Sophie says.
Sophie's face is animated as she explains how she has been involved in designing promotional and information leaflets with graphic designers, helping to conceive, plan and host workshops. Her work has included creating photographic collages, decorating photo frames and using printing techniques to make retro-style posters and plan family events. She wrote an article for the magazine  Children and Young People Now  in which she advocated allowing the public – 'people of all ages, ability and races' – regular opportunities to curate exhibits, 'different themes could be incorporated at different points of the year'.
Sophie is studying for her A levels in Psychology, Philosophy, and English Language and Literature and plans to pursue a career in fashion and journalism. No doubt her experience will help advance her professionally. 'I've learned a lot about administration and management. And I've appreciated being treated like an adult; our opinions really make a difference'.
Henrietta Hine, Head of Public Programmes at the Courtauld Institute of Art and Gallery, agrees with this view. Hine emphasized that in the Courtauld's experience 'the project is not tokenism by any means. The young people involved displayed an impressively high level of commitment to their work at a very sophisticated level. They wanted to know what we know. They welcomed the challenge of working with our collections'. Hine's experience refutes the patronizing, stereotyped image of young people as interested only in graffiti or mural projects.
The Courtauld worked with 21 students, aged 16–21, all in receipt of an Educational Maintenance Allowance (EMA) and whose parents had never participated in higher education. These young people worked with curators, art history scholars, conservators and photographer Marysa Dowling.  For the major project and exhibition, 'Look Again…' they explored what we can learn about social values and history, personal aspirations and narratives and identity from portraits painted before the widespread use of photography.
For example, students reflected that, as only the well-off could afford to have their portraits painted, we may not know as much about the visual world of the poor as we would like. They asked, what was the relationship between the 'model' and the painter? What does that tell us about each of them? For the exhibition each student selected a portrait from the collection – one with which the student could identify – to create their own self-photographic portraits: their own visual identity. The choices were not necessarily gender based.
Champagne Reid was drawn to Edward Manet's 'A Bar at the Folies-Bergère' (in the Courtauld Gallery's collection).
'The image best describes my past, my future and myself…the lady in the image appears quite restricted, bound by her job, her image, her life… I used the corset to show I am bound as a girl becoming a woman and the restriction this imposes on my future. The table reveals the boundary on my present life and the chains show the boundaries from my past…the continuous grey colour behind me and on the desk in front helps to show the darkness I have left behind and the light of the future to come.'
The Courtauld establishment is unique because it incorporates both a gallery and an educational institute offering short courses and degrees, at undergraduate and postgraduate level, in art history and conservation. Stories of the World enables the Courtauld to attract students who might not be familiar with these subjects and their vocational potential.  While art and design are part of the National Curriculum, art history and conservation are not, and many schools lack the resources for studying these subjects.
The Courtauld sees the young volunteers as community diplomats, encouraging others to participate in the visual arts and appreciate the historical and cultural trends that have shaped them. The project shows how art history concerns not just the past, but also the present and future. Looking at portraits painted in the past can help you understand your place in the world, in an illuminating, both positive and negative, context.
The feast of enterprising projects and debate inspired by Stories of the World makes one yearn to travel around the country and meet more of the people involved. In Bolton there will be an exhibition of hats, including one shaped like a pyramid, inspired by the Egyptian collection. Secondary school pupils have been working with professional milliner Justine Bradley-Hill to develop their own creations. In Yorkshire, there will be exhibitions based on the theme 'precious cargo' – how have the objects we have inherited through trade affected our social and cultural history and life today? At the Brighton Museum and Art Gallery, volunteers are creating a permanent gallery with objects from Africa, Asia, the Pacific and the Americas. They are researching and sourcing artefacts that are still meaningful today. Images, sounds, films, sensory experiences and performances will enhance the poignancy of the displays.
As I part from Elvis and Sophie, I hope that the achievement of all those involved in Stories of the World will give them an international presence and prove how museums can be the life blood of a community, and  how community involvement can be the life blood of a museum. I would not be surprised if one day I see Sophie and Elvis's names on the boards of acclaimed museums.
Notes:
Photograph, by Marysa Dowling, 2010,  of Champagne Reid, who was drawn to Edward's Manet's A Bar at the Folies Bergère.
This article first appeared in Cassone: The International Online Magazine of Art and Art Books in the August 2011 issue.