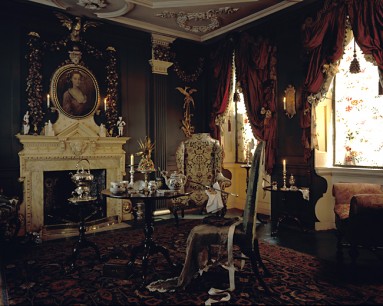 Recently I travelled back in time to the eighteenth century to visit the Jervis family who were living in Spitalfields, East London, in a house on Folgate Street. In common with many of their neighbours, the family were originally French Protestants – Huguenots – who followed the teachings of John Calvin, and the head of the household, Mr Edward Jervis (Gervais, anglicised), was a prosperous master silk weaver. We had some contracts to discuss, and I was looking forward to relaxing in the warmth and gaiety of his family afterwards.
Alas, his servant did not relieve me of my umbrella and paper, for Mr Jervis had just left to attend to urgent business. Damp and disappointed, I stood for a few moments before venturing out into the rain, listening to horses' hooves clicking against the cobble stoned streets, while inhaling the delicious household scents of cloves, cinnamon, ginger and oranges.
Pray, forgive me, dear reader; of course I didn't literally travel back in time. I'm deliberately teasing, attempting to disorientate you, in order to prepare you for a dream like experience, one that will enchant your aesthetic, physical and intellectual senses unlike, I promise, no other has ever done.
For, all at once, Number 18 Folgate Street is living history, a time machine, a life-size, peopled diorama with sounds and smells, chilly and warm air, a collage of images from drawings by William Hogarth, tales by Charles Dickens and Beatrix Potter. Each room illuminates a different time in the 200-year-old history of the made-up Jervis family, evoking the soul and atmosphere of each period. Indeed, many of the features and artefacts on view are not necessarily historically accurate choices. They are the chosen because they make us think and feel as if we were living in the past. In the Georgian dining room the chairs may actually be Edwardian in origin and the napkins cotton and polyester, but they evoke the 'right look', as a theatrical set does.
Folgate Street is purposely not a sanitized historic house of rooms for academics. There we learn about history through our senses, what we see, what we hear, what we feel, with reference to settings and objects evoking reality but not necessarily true to it. We are educated in an unconventional manner.
The credit for this novel creation belongs to the American Dennis Severs (1948–99), who grew up in southern California.  His parents, Earl and Helen Severs, owned and managed a petrol station. Owing to Dennis' imagination and story-telling gifts, some of his schoolteachers regarded him as mentally retarded, while others revered him as exceptional. In his book about the house, Severs recalls: 'on rainy days, when children were kept inside without a break, one teacher would employ my imagination by sending me around to tell stories in an attempt to keep the peace'.
Severs' interest in England was inspired by watching black and white movies on television, such as adaptations of Dickens' stories and Daphne du Maurier's My Cousin Rachel.  'I always believed that a day would come when I would travel past picture frames and into the marinated glow of a warmer, more mellow and more romantic light. There was one such light, in particular, that I saw in the combination of old varnish and paint, and that appealed to me as my ideal. By the age of 11 it was identified as English.' This is what Severs perceived as a cultural heaven, so unlike his native California.
In 1965, Severs visited England and moved to London two years later, after graduating from secondary school. He earned his passage by washing dishes in restaurants and delivering newspapers. Until a developer demolished his stables in South Kensington, he led horse-drawn open carriage tours around London. In 1979 Severs found a way to continue the pilgrimage towards his 'romantic light': settlement in a derelict 18th-century silk weaver's house in Spitalfields, amid other decaying abodes, shops and places of worship. Some buildings were sweatshops.
The area at the time was just beginning to attract gentrifying homeowners, attracted by the low-cost elegant Georgian housing near central London, and 'save our heritage' activists. There were thriving movements to save Nicholas Hawksmoor's Christ Church – a magnificent example of Baroque architecture – and arrest large-scale development.
Severs determined not to gentrify the 18th-century interior of the house. He slept in each of the ten rooms, trying to absorb the atmosphere of 1720s Huguenot London. He spurned modern convenience, read by candlelight and warmed himself with log and coal fires, gradually creating 'a home that might have been' in which he would welcome friends and give tours to the public. Severs furnished the house with what he found in shops and stalls selling bric-a-brac, creating three dimensional, somewhat surreal, pictures of the imagined family's past.
Upon entry, the curator, David Milne, who knew Severs well, sternly but politely informs us that we must explore in silence – a wise dictate. Distracting prattle can numb the senses and imagination; here silence titillates rather than deadens.
And we mustn't touch, Milne prudently warns. One might knock over a candlestick or interfere with the careful arrangements of food and artefacts, distorting the images and stories that Severs wanted to share. When Severs was alive, he would, apparently without a second thought, eject visitors who 'misbehaved'.
The rooms we visit appear as if the inhabitants have just left.  We find half eaten scones oozing with jam, nearly empty cups of tea, a few sips worth of red wine in glass goblets, crumpled white linen napkins, strewn sweetmeats and fruit, empty oyster shells, unmade canopied beds, opened face-paint boxes, wigs slung on newel posts, clothing in disarray, a half-filled chamber pot. We breathe sweet aromas of spices and fruit and wander in awe, our eyes having adjusted to the candlelight, although, depending on the time and season, the night may not yet be drawing in or the afternoon sky may be a forbidding grey.
We hear bells tolling, gun cracks (upon the accession of Queen Victoria), stairs creaking, voices whispering, a baby's cries, laughter. Maybe we notice the speakers?
In the basement is the servants' kitchen, spanning the period from 1760 until 1915. I want to read The Tailor of Gloucester facing a child's high chair, but I dare not. On the ground floor, we view the Jervis sisters' parlour of 1915, and the family dining room of 1724. In the latter, the family has yet to attain the upper-middle-class prosperity evidenced in Edward Jervis's smoking room of 1760 and the sumptuous family drawing room of 1780, both on the first floor.
In the drawing room, the fireplace of the fabulous chimneypiece is lined with tiles made by Severs' partner, Simon Pettet (1965–93), a talented ceramicist. Pettet was captivated by the white glaze and blue decorations of Delft pottery and created his own similar white and blue objects, which were featured in magazines such as World of Interiors. The tiles we see look as if they were manufactured in the 17th century in or around Delft in the Netherlands. In fact, they're a modern showcase of Spitalfields personalities – artists, writers, historians, students, some decked in Georgian attire.  You may spot Gilbert and George, the social historian Raphael Samuel and photographer Simon de Courcy Wheeler.
The master bedroom of 1780 and Mrs Jervis' bedroom in widowhood, in 1811, are on the second floor. In 1824, the third floor is in a very unfortunate state. Clotheslines with frayed garments hang from the ceiling above the stairs, ceilings are caving in, and stuffing pours out of chairs. A live cat prowls, keeping the mice in their place. This is the lot of the lodgers whom the family were forced to take in when the silk trade diminished and they were impoverished.
Shortly before his death, Severs' bequeathed the house to the Spitalfields Historic Buildings Trust, which now runs the house as he intended. But 21st century Spitalfields is very different from what it was when Dennis first settled there. Today you'll find a fashionable market of clothing and specialist food shops and restaurants, beautifully preserved Georgian houses and glass-fronted and concrete-clad modern offices, housing and retail shops. There's a pleasing, practical visual and functional relationship between old and new.
What Severs set out to create in his house – 'a collection of atmospheres: moods that harbour the light and spirit of various ages' – one could attribute to the area. Severs' journey back in time helped to ensure a promising future for a corner of England.
What was he really like? I wonder. Tim Whittaker, Administrator of the Trust, tells me Severs 'could be dictatorial, waspish, but he had a vision. He was very eccentric and bright and articulate; he had a great sense of romance and excitement. Dennis was an incredible character.' I wish I'd had the pleasure of his acquaintance.
Notes:
Many thanks to the staff at Dennis Severs' House and the Spitalfields Historic Buildings Trust (http://www.spitalfieldstrust.com for their help and encouragement. For information about opening hours and tours of the house, please visit http://www.dennissevershouse.co.uk/.
Photograph of Dennis Severs' House courtesy of Alan Williams. 
This article first appeared in Cassone: The International Online magazine of Art and Art Books in the October 2011 issue.