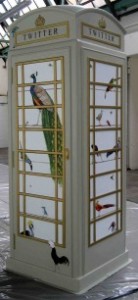 When I was in the seventh grade at school in New York City – aged 11 – one of my classmates was a sullen, bony girl, whom I shall call Cora. She kept herself to herself. One day in the girls' lavatory, she took off her tights and showed us the welts on her legs. 'Granny does this to me,' she said. (Cora's parents were 'somewhere else in the world,' she'd say.) Horrified, I convinced myself the marks were due to an allergic reaction.  If I believed her, I'd sicken myself with dread and feel inclined to tell someone grown up – ­ possibly put her in further jeopardy? 'It's a secret,' she whispered. 'Granny she'll, well, if she knew…' (Cora, by the way, was usually excused for physical education, what we called 'sport'.) Indeed, no one could deny that the justified fear of retaliation –  'if you tell' – is so strong, oppressive and restraining, like the abuser, that young people keep quiet about the abuse.
This is why, in 1986 in the UK, the television presenter and journalist Esther Rantzen launched ChildLine, as a means of helping children find salvation from abuse, without retaliation from the perpetrator.  (Rantzen, incidentally, has recently revealed that she too was abused as a child.) ChildLine is a free, confidential telephone helpline offering counselling from trained volunteers, and it's available throughout Britain. One can also talk online via the website and through email.
This year ChildLine celebrates its 25th anniversary. To mark the occasion, the charity has joined forces with British Telecom (BT) to launch an exhibition – BT ArtBox – of over 80 'fake',  life-size, fibreglass telephone boxes transformed into artworks for display on the streets of London and in the city's public spaces (such as inside St Pancras International station) until 16 July. On the 18 July some of the boxes will be auctioned at the National Portrait Gallery by Sotheby's, while others will be available to buy online through eBay. All sales will raise funds for ChildLine.
Transforming designers include painter Sir Peter Blake, fashion icon Sandra Rhodes, architect Zaha Hadid, milliner Philip Treacy and interior designer Nina Campbell. Artists interested in participating in the event (there were at least several hundred) were asked to propose designs in advance before being commissioned. The judges were journalist Rachel Campbell-Johnston, and BT ArtBox Patrons: Professor Malcolm Garrett, graphic designer and Royal Designer for Industry (RDI); Ruth Mackenzie, director of the Cultural Olympiad; Suzi Williams, director of BT Group Brand and Marketing; Sandy Naire, director of the National Portrait Gallery; and Esther Rantzen.
BT is especially proud to be associated with ChildLine because it helped with its establishment by providing an easy to remember telephone number (0800 1111) and premises. Indeed, the 'box' is a crowning metaphor for the cause; it symbolizes the means – the 'telephone call' – by which young people can seek solace.
One of the artists, Rebecca Campbell, is notable for her whimsical work with charitable art. She transformed 'eggs' for The Big Egg Hunt held earlier this year (artisticmiscellany article) and 'elephants' for the Elephant Parade held in 2010. Both were open air exhibitions in aid of good causes, such as the Elephant Family and Action for Children. Campbell's box resides in Covent Garden. Aptly named 'Twitter', it reveals life-like birds chattering behind the glass windows of the box.
Reflecting upon her design, Rebecca tells me: 'I imagined redundant telephone boxes being recycled to use as aviaries. I wanted especially to create something playful as we were working to help a children's charity. The aviary is also a play on words – birds twitter; and Twittering is one of the latest forms of communication. To enable children to talk by using technology is why and how ChildLine was set up'.
What made contributing a truly unique experience for Rebecca was that the chosen artists were given space in a south London warehouse to work on their designs. (The boxes might not fit in everyone's studio.) She relished the feeling of camaraderie engendered while the artists were working together. There was such an abiding sense of warmth in the atmosphere.
Many of the other box designs also have charming childlike qualities. Each of the four sides of Rosemary Goodenough's The New Elizabethan Knot Garden represents a quality that children exude naturally – there's one for innocence, one for hope, one for happiness and one for love. Lidia de Pedro and Fee Fee La Fou's colourful creation The Smile of a Tear pictures scenes from a travelling circus. It sparks humour with a touch of the ghoulish! In the minds of the artists, the circus represents a magical world, divorced from reality, where wonders never cease. (Perhaps what children, especially those in pain, pray for?) The artists 'wanted to create a fitting monument to the great [Joseph] Grimaldi, the 'King of Clowns', who spent most of his life trying to make people laugh', which they consider a 'noble way to spend your days'. Cosmo Sarson's box, Peekaboo, pictures a child's face; fingers spread into a 'V' shape frame the child's eyes. The image could symbolize a child hiding for fun or from fear of the finder, in hope for a saviour.
Some boxes evoke a Jubilee theme, such as Peter Blake's, which is painted to evoke a Union Jack image and features the number 2012. The nearest box to my house, near Sloane Square, is one of a series of six by Ryan Callanan, one for each decade of Queen Elizabeth's reign.  The words 'long', 'live', 'life', 'love' each feature on a side. The gilded lettering is very regal, reminding one of the typography of British public houses. Almost all the box is painted pink.
The prototype is also 'very Jubilee' as this one – Kiosk 6 (K6)  – was designed by Sir Giles Gilbert Scott in 1935 to commemorate the Silver Jubilee of King George V. It was a derivation of a previous box design of Scott's, but this one's vertical bars in the windows and door were spaced further apart in order to improve visibility. The K6 is of cast iron construction and painted red to make it easy to spot. The kiosk has a domed roof with a crown on each side. At first the crown was Tudor, but in 1952 the new queen decided to use another officially recognized representation of the crown, the St Edward's Crown. The K6 was the first kiosk extensively sited outside London; initially about 8000 were installed. Many people would have preferred a subtler colour. One can buy refurbished kiosks and also see them in former British colonies all around the world.
BT ArtBox commendably demonstrates how art can be a useful and inspiring means of raising money for charity. Inspired by the art created for the sake of the cause, people are more likely to become interested in the cause itself, and contemplate art in a sympathetic light, rather than as an elitist or esoteric aesthetic phenomenon, a feeling held by many.  Perhaps they'll realize that art itself can be therapeutic. The very physical act of creation is comforting. It can be a tool for self-expression. The creation itself enhances one's sense of self worth.
The other day I went to an exhibition at the Royal Academy called Childhood – The Real Event. It features paintings, sculpture and poetry created by young people associated with Kids Company, a charity supporting over 17,000 vulnerable children and young people, the sort of people who might seek help from ChildLine. The exhibition is the culmination of art therapy, which the charity has initiated with traumatized young people.
The work disturbs and is open to troubling interpretation, but yet the artists' evocative accomplishments – some quite outstanding – are truly memorable. Among the exhibits are a tunnel of dreams, a roller coaster, puppets, shoe box rooms, fashion designs, most featuring verbal expressions, poetry and drawings, and adorned with materials such as coloured paper, plastic sheets and plastic balls, and textiles. A couple of the poems make you feel as if you have been punched by a boxer.  'I become the person fighting like soldiers, following a commander, repeating what they see.' Or 'You're a slave to the shouting. Fight, fight, fight. Like walking through a dark tunnel, you find a light at the end. But it isn't real, another trap.' Ah, but listen to this: 'If I had the potential of being a well known artist I'd draw all day'. This is written on a cloud shaped board suspended from a gallery ceiling.
BT ArtBox itself is worth applause if only for what it celebrates – some fine aspects of our heritage: the Diamond Jubilee, the 25th anniversary of ChildLine (possibly a British icon?), British communications technology and how it helps bring people together, and the civilizing aspects of art created by home-grown talent. The importance of healthy technical and spiritual connections: that's what BT ArtBox makes you appreciate.
Notes:
As well as the iconic telephone box, Sir Giles Gilbert Scott (1880 – 1960) is well known for his designs for Liverpool's Anglican Cathedral, which proved to be a laborious and lengthy undertaking and was highly acclaimed. The work dominated the architect's life. Scott also designed many other churches both for Anglican and Roman Catholic parishes, such as the church at Ampleforth College, Yorkshire, the chapel for Lady Margaret Hall, Oxford and the cathedral in Oban, Scotland. Scott was a Roman Catholic. He was also praised for his secular designs, such the New Bodleian Library at Oxford University, and Waterloo Bridge, the Guinness Brewery, and Battersea Power Station in London. He also 'rebuilt' Bankside power station on the South Bank, which has since been converted into Tate Modern. Apparently Scott was a most likeable man, modest and unassuming, with a good sense of humour. He loved to play to golf.
Photograph of Twitter by Rebecca Campbell. ©Rebecca Campbell
This article first appeared in Cassone: The International Online Magazine of Art and Art Books in the July 2012 issue.