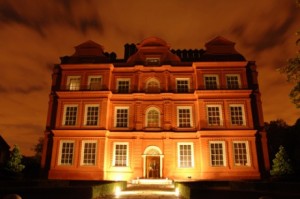 Is Kew Palace, situated on the south bank of the River Thames, within Kew Gardens, a misnomer? It does not dazzle visitors with splendiferous gilded furnishings, crystal chandeliers, heavenly high ceilings adorned with mythical and religious scenes, or ornate elephantine staircases; and nor does it puzzle one with a maze of red carpeted corridors.  A royal residence? Unlikely.
Yet although Kew Palace, a classically designed red brick mansion, is not awesome, it is rather special, on account of the handsome simplicity of its interior and exterior design, and warm air of unpretentiousness. You could imagine yourself living there, wishing to live there, as King George III (1738–1820) and his family did, beginning in the 1780s, for brief periods during his reign.
The house served as a retreat from the stifling demands of political intrigue and governance – monarchs were very, very much involved in the business of government in centuries past. The simplicity of aesthetics paralleled the simplicity of the royal family's lifestyle at Kew. As David Watkin writes in The Architect King, while the family lived at Kew Palace and at other houses in the grounds of Kew Gardens, they 'adopted…a highly unorthodox mode of living which combined the pastoral with the semi public, but with virtually no recognisably royal elements'.
Regrettably, though, Kew Palace was also associated with unhappy sojourns, as this was where George III was secluded away from the public eye – incarcerated, it could be said, as the treatment was brutal, straitjackets being part of the 'cure' – when he was suffering from his so-called periods of madness. Contemporary research suggests that George III's 'insanity' was the result of an hereditary metabolic disorder known as porphyria – or possibly bipolar disorder.
The building's exact history isn't easy to trace, possibly because it is not, frankly, considered architecturally iconic and was not inhabited on a regular basis by 'the great'. Nonetheless, Kew Palace is a fine example of a Georgian residence that we may easily explore while soaking up illuminating snippets of social, political and architectural history. The staff are incredibly helpful; we don't feel as if we are likely to step where visitors dare not tread.
Kew Palace was built by Samuel Fortrey, a prosperous Flemish merchant, in 1631, and eventually enjoyed by other wealthy aristocratic tenants such as Sir Richard Levett, who became Lord Mayor of London in 1699. Later King George II (1683–1760) and Queen Caroline of Ansbach lodged their three eldest daughters there in 1729, while the King and Queen resided at nearby Richmond Lodge. Two of King George III's sons – another Prince George, later George IV, and his brother Frederick – lived at Kew Palace with their tutors until they came of age.
For a while the house was referred to as the Dutch House, on account of its Dutch gables. The King's last visit to Kew Palace was in 1806 when he stopped off to dine. Queen Charlotte's last visit occurred unexpectedly in 1818 when she was taken seriously ill en route to Windsor Castle. She remained there for several months until she died. During this period, in their mother's presence, her sons, the Dukes of Clarence and Kent, were both married to German princesses. The Duke of Kent was the father of Queen Victoria (1819–1901).
The Palace 'slept' from this time onwards, being of little appeal to the royal family, until Queen Victoria opened it to the public towards the end of her reign. It was closed in 1996 for a major renovation and reopened in 2006.
The rooms are not vast, on the whole. We enter a narrow hall and then are directed to a waiting (Ante) room, notable for its linenfold panelling, the design of which dates back to the Tudor period and literally looks likes folded linen, parchment or tapestries. It is good for insulation. We proceed to the King's ( George III's) Library. The King was passionate about books; he created libraries in two of his other 'palaces', St James's Palace and Buckingham House, taking advice regarding acquisitions from men such as Samuel Johnson (who commented: the King is 'the finest gentleman I have ever seen'). Today the Library features changing displays of historic objects relating to the King's life at Kew. Royal dining is the current focus.
Next stop is the Pages' (Servants') Waiting Room and then the King's Dining Room. A chamber organ dating from the 1740s 'reminds' us of how George III loved the music of Handel. At the table, without much pomp or circumstance, the King entertained those associated with the arts and sciences. Dining in Georgian times entailed having the dishes for each course laid on the table by servants, so that one could help oneself. For both the first and main courses there would be puddings at well as savoury dishes. Beef, mutton, pork and veal were popular together with small songbirds such as blackbirds, larks and starlings. Godwits were also common table fare. Salmon, cod and turbot featured. Italian dishes were relished and hence Parmesan cheese, vermicelli and macaroni were often noted on suppliers' invoices. Knives had bulbous ends rather than being skewed – it was no longer considered proper to spear one's food on one's knife. Queen Charlotte and George III were abstemious in their diet and frugal with alcohol.
The King's Breakfast Room also currently displays exhibits exploring royal dining. I marvel at an exquisitely preserved doll's house built in the 1780s for the daughters of George III, which features their homemade furnishings.
We ascend to the first floor. The Queen's Boudoir, which is quite large, was probably used for private entertaining. There the Queen and her companions would enjoy each other's company while doing needlework, knotting, spinning wool and playing cards. Female figures representing the five senses adorn the Charles I plaster ceiling. There are examples of furniture with the popular 'japanned' finish, which is characterized by layers of varnishes and glazes, and decoration highlighted with gold leaf and bronze paint. The fashionable, elaborate scroll-like patterns and bold colours of the upholstery, curtains and carpets seem almost brash!
The Queen's Drawing Room is relatively restrained in décor – the walls are pale pink, the ceiling unadorned. We see pictures by Sebastiano and Marco Ricci, and Francesco Zuccarelli. There is a walnut cased harpsichord made by the Swiss born Burkat Schudi, a well-known stringed instrument maker: the room was also known as the Music Room in the 1800s.
We pass through to the Princess Elizabeth's Dressing Room and Bedroom, Queen Charlotte's Bedroom and Ante Room, all recreated to evoke the period ambiance, fabric and furnishings each of these women would have enjoyed. Despite exquisite restoration and replication, they're not as sumptuous as one might imagine.
Visiting the second floor, comprising Princess Augusta's and Princess Amelia's apartments, is a slightly eerie experience. It has been left in a 'bare bone' state rather than restored, revealing how the palace was constructed in the 1630s and how it has changed during the two centuries that followed. We see traces of floral wallpaper and lead paint, and how larger rooms were subdivided with panelling. On the second floor visitors can share what archaeologists uncovered before enabling an exacting period pristine finish.  Photographs hanging on the corridor walls depict the servants' quarters at the top of the house (not open to visitors), a warren of oddly shaped rooms with scant daylight.
A short walk away from the Palace is the Royal Kitchen, approached via an enchanting kitchen garden, planted with fruit and vegetables eaten during Georgian times.  The kitchen evokes the hustle and bustle (with sound effects) of the 6 February 1789, when after a serious period of illness, the King could once again be trusted to use a knife and fork safely.  The kitchen was built around 1735 for George III's father, Frederick, Prince of Wales. It primarily served The White House, close by, where other members of the royal family stayed, and which has since been demolished. When Queen Charlotte died the kitchen was also left untouched for nearly 200 years.
Next comes the office of the clerk, who ran the entire culinary enterprise together with the master cook, the head chef, and kept strict accounts of all purchases and an eye over the some 20 staff members. In the great kitchen there is a large range for spit roasting meat – a person known as a Turnbroach turned the spit.  The original turning device – a smoke-jack – remains, as does the original elm-topped preparation table. The washing up was done in an adjoining scullery. Pewter and copper pans were scoured with a mixture of sand and lye. The more valuable tableware was stored in the silver scullery. The original two bread ovens and kneading table remain in the bake house. Fish and oysters and joints of meat were stored in the 'wet larder'.
Visiting Kew Palace is a relaxed, gently enlightening experience, one that makes you feel at home. And of course there are the wondrous gardens of Kew on the doorstep.
Notes:
Most people think of George III (born 1738, r. 1760–1820) as the 'Mad King', and the ruler responsible for losing the American colonies (an unjust exaggeration, admittedly), without appreciating that the King had many active interests in the visual, performing and literary arts, agriculture, gardening and architecture, some of which have left a lasting legacy. He was involved in the foundation (1768) and the life of the Royal Academy. George III admired in particular the work of Thomas Gainsborough, John Zoffany and the American artists John Singleton Copley and Benjamin West. One can find his collection of scientific instruments in London's Science Museum. He funded the construction, during the late 1780s, of William Herschel's 40-foot telescope, the largest ever built at the time. (Herschel discovered the planet Uranus.) George III's is one of the most significant collections in the British Library: 65,000 volumes of printed books with 19,000 pamphlets. The King's character was complex – unyielding, insensitive, yet at other times compassionate, morally zealous especially in a familial context, conscientious in the realm of intellectual endeavour, politically controversial. He married Princess Charlotte of Mecklenburg-Strelitz with whom he had 15 children.
Kew Palace is managed by Historic Royal Palaces. For more information about opening hours, facilities and events regarding Kew Palace and The Royal Kitchen, visit www.hrp.org.uk. 
The photograph features Kew Palace, a four-storey red brick house  which was built c. 1631 by Samuel Fortrey, a merchant of Dutch origin whose initials, together with those of his wife, Catherine, can be seen above the entrance.  Courtesy of Kew Palace. 
This article first appeared in Cassone: The International Online Magazine of Art and Art Books in the October 2012 issue.