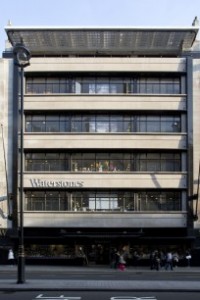 Some might wonder if the enterprising Twentieth Century Society is somewhat of a contrivance: are there many buildings from recent times worthy of protecting? If so, would they all be of a 'modernist' type? While modernist architecture is frequently perceived as the epitome of 20th-century architecture, revivalism generally satisfies popular taste. The unembellished, white stuccoed, plain brick or concrete geometric blocks of steel, with flat roofs and minimalist interiors, do not inspire hordes of champions.
For the past is our present, a defining British characteristic. Norman castles and Gothic cathedrals, gabled Tudor edifices, Queen Anne manor houses, and strikingly elegant neo-classical country houses never cease to inspire awe; how proud we are, too, to live in our highly sought-after Victorian family villas. The architectural heritage trail does not include many stops at 'modern' establishments, such as the Shard, Turner Contemporary, Tate St Ives, brutalist housing estates, or homes reminiscent of Ernö Goldfinger's Willow Road.
But modernism is not all that 20th-century architecture is about; there are many relatively new structures that please traditional tastes. Moreover, mainstream tastes are changing. Buildings of colourful forms and configurations, incorporating new and reinterpreted traditional architectural styles, are receiving applause.
In order to reveal the diverse nature of architecture built within the last one hundred years, educate and enlighten, the Twentieth Century Society coordinated a project called 100 Buildings 100 Years, the results of which have been published by Batsford. Members and supporters of the Society were asked to nominate buildings that were designed and came into use during the last 100 years: buildings with which they feel a particular 'connection' or which they find intriguing or inspiring. I wish I could have been the fly on the wall when the selections for each of the years were made; I'm slightly bewildered as to how the final list was compiled. To coincide with the book's publication, the Society organised an exhibition at the Royal Academy (11 October 2014 – 1 February 2015) showcasing the structures in the book.
As Catherine Croft, the director of the Society, explains, the Society wanted to make more people conscious of the broad range of 20th- and 21st-century architecture. Buildings or structures erected in this time frame were not of one style, type, 'school' or 'ism'. The final choices are not meant to be the 'best', 'iconic', or even most representative. A spectrum is indeed depicted: including housing, prefabs, offices, educational and religious establishments, a pumping station, a cinema, a boathouse, and an airport hanger.
Judging from the brief biographies of the people whose choices were selected, the majority have a scholarly, civic or professional interest in architecture; few are 'enthusiasts'. The supporting statements are quite individualistic. Some are emotive, some quite technical, others jargonistic; most are under 150 words.
I would have liked to see more work designed by women architects, such as one of Mary Medd's progressive school buildings: Woodside in Buckinghamshire (Grade II listed, 1956/7) for example. Including this would have knocked out Walter Segal's Ovington Square, a post-war apartment block with cross walls of load-bearing engineering bricks with mock Tudor wooden latticing.  Architectural critic Sir Nikolaus Pevsner  describes it as a 'Morris Traveller parked among grander saloons'.
The somewhat brutalist Dorich House (1935/6) is a striking omission, all the more lamentable because it is open to the public. The sculptor Dora Gordine  and her husband, Richard Hare, a Russian scholar and diplomat, designed the house with the help of the surveyor Henry Ivor Cole. The high-ceilinged public space, with displays of Russian art and sculptures, and Dora's workshop are spacious and light, while the domestic space at the top of the house is compact and imbued with a sense of intimacy. Rich textiles, Chinese furniture and geometric furniture, some multi-functional, as it provides storage, shelving and seating, create a relaxing atmosphere. Alas, Simpson's of Piccadilly (now a book shop) would have been cast aside if Dorich House had been the year's 'winner'. Another regrettable omission is Rodmarton Manor (1929), which was constructed and furnished according to Arts and Crafts ideals by Ernest Barnsley and the Cotswold group of craftsmen. It would have replaced Sir Giles Gilbert Scott's modest William Booth Memorial College.
Everyone's choices would be different but, regardless of what is featured, the selection reveals evidence of building technologies and methods, unknown in times past, which have engendered brave new worlds of construction. A 'traditional'-style building built in 1962 would not be built today as it might have been 100 years earlier.
The unimaginative layout of the book disappoints. Some of the white space left could have been filled attractively with more photographs and informative text. In these days of Sat Nav, postcodes should have been noted with the addresses, as they were in the exhibition. Nonetheless, the chapters written about the variety of architecture during the inter-war decades (Gavin Stamp), post-war architecture (Elain Harwood) and postmodernism (Timothy Brittain-Catlin) are illuminating and free from alienating jargon.  The 'Further reading' list and the index are constructive. Alas, meagre describes both the publicity accorded to the exhibition and the space it occupied – a smallish area between a short hallway and the RA restaurant, an ironic choice for an architectural exhibit.
Both book and exhibition reflect the Society's 'pluralistic' rather than partisan perspective. It steadfastly champions the conservation, preservation and listing of not only the modern, but the 'Modernistic', 'Classical', 'Neo-Georgian', 'Pseudish' (a term referred to by Gavin Stamp with reference to its creator, Osbert Lancaster: 'a particularly clever name for that white-walled sub–Spanish Colonial manner with bright green or turquoise pantiles on the roof'), 'Gothic', and even 'Stockbrokers' Tudor' (another Lancaster term). The Society also recognises, as former chair Alan Powers explains, the social, that is to say, 'the use value of buildings, public spaces and landscapes, rather than merely their architectural and historic importance'.
What sparked the birth of the Society was the proposal in the late 1970s to replace Sir Edwin Cooper's neo-classical building for Lloyd's of London (1928)  with a new 'futuristic' structure by Richard Rogers, which would suit the modern insurance industry. In the eyes of Marcus Binney, the founder of SAVE Britain's Heritage, John Harris, then director of the RIBA Drawings Collection and the architectural writer and journalist Simon Jenkins, this elegant Portland stone office building 'represented a whole body of important architecture – of the period that deserved more sympathetic assessment'. The time was ripe for a conservation society focusing on the years after 1914, the limit of The Victorian Society's scope. The public was starting to appreciate the eclectic nature of 20th-century architectural design; its defining characteristics were not necessarily modernist.
In 1979 these individuals took it upon themselves to create the much-needed conservation society that would focus on architecture built during the interwar period and beyond. Architectural historian Bevis Hillier became the first chair. Gavin Stamp succeeded him.  Clive Aslet, who was just beginning his association with Country Life, was the first honorary secretary.
The Society was christened The Thirties Society. 'It had good ring to it,' says Powers, its first caseworker in 1981.  'People were apt to enquire whether it was a dating organisation for "thirty somethings" and perhaps it was occasionally'. One can't help avoid the feeling that the title wasn't an easy one to choose. Maybe it seemed a good idea at the time, over a glass or two, as it would relate to the period the group concentrated on initially, though in reality it wasn't long before the Society endeavoured to protect 'younger' architecture and design. In 1992, the name change occurred.
Interestingly, the ornate neo-classical façade of the Cooper building remains in front of the Leadenhall street entrance to the 'new' Grade I listed Lloyd's building. Rumours circulate that this building is now unsuitable and new premises are sought.
The Society has handled a multitude of cases since its birth, most concerning proposals for buildings to be listed. In the beginning it ensured the listing of 150 examples of interwar architecture (including Battersea Power Station) by the government. It fought successfully for the eligibility for listing of the traditional red telephone boxes designed by Giles Gilbert Scott, London underground stations and lidos. It highlights the importance of 20th-century architecture through lectures, study days and publications such as the Twentieth Century Architects series, a magazine and a generous annual scholarly journal, which focuses on a relevant topic, such as industrial architecture or 20th-century churches. Local planning authorities now have to consult the Society when listed 20th-century buildings are threatened with demolition.
I do believe that every building has a gentle ghost wandering through it; perhaps this is the soul of its creator.
Notes:
Listed buildings (in England) are buildings and structures such as bridges, monuments, sculptures, war memorials and telephone boxes which the Secretary of State of Culture, Media and Sport considers to be of special architectural interest (in design, craftsmanship, decoration, or technological innovation) or historic interest (i.e. because of what the structure reveals about the nation's social, cultural, economic, military or environmental background). Depending on the structure's location, applications for new entries or to amend or upgrade a listing are made to Historic England, The Historic Environment Service of the Welsh Government, Historic Scotland, or the Northern Ireland Environment Agency. These  organisations consider the merits of the applications and make recommendations to the Secretary of State.
There are c.380,000 listed buildings in England (315 post-war). Grade I are of exceptional interest (2.5%); Grade II* are particularly important structures of more than special interest, (5.5%); Grade II are of special interest (92%). Buildings less than 30 years old are rarely listed and buildings less than ten years old are only listed if they are of exceptional quality and under threat. In 1987, the classical Bracken House (1959, Albert Richardson) became the first post war building to be listed. Being listed does not ensure that a building will not be demolished. Listed building consent must be obtained from the local planning authority if alterations are proposed.
For more information about the Twentieth Century Society, please visit http://www.c20society.org.uk/. See also articles about the Barbican and Ernö Goldfinger's Willow Road in Artistic Miscellany.
The photograph is of Simpson's Piccadilly (now Waterstones), designed by Joseph Emberton, 1936. It is listed Grade II*, ©Twentieth Century Society.
This article first appeared in Cassone: The International online Magazine of Art and Art Books in the October 2015 issue.