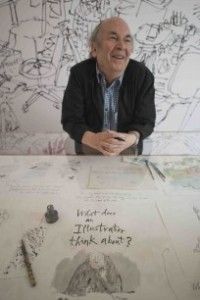 Traditionally, there has been a distinction, subconscious or conscious, between fine art and applied art, although the boundaries between them have always been blurred.  Fine art has been perceived as an aesthetic creation, imbued with an intellectual element, the lone, haughty member of an A list. Humbled and cowed have been the members of the B list – the applied arts – utility forms with hints of artistry. Illustration, as Quentin Blake has suggested, has been regarded as a 'minor' genre (undoubtedly a B list member), maybe because it has been seen as commercially rather than aesthetically motivated, though Blake himself has stated that illustration is 'one of the most distinctive strands in the history of British art'.
Nowadays fine art is not unquestionably at the helm of artistic endeavour. An increasing number of major museums, galleries and exhibitions feature applied art. In 2003, the Fashion and Textile Museum was established by Zandra Rhodes; in 2012, the Photographers Gallery, after a major redevelopment programme, emerged as a much more substantial establishment than it had been in its early days, dating from 1971 when it was founded in a converted Lyon's Tea Bar. In 2016, London's Design Museum will move from its Docklands premises to Kensington and take over what was once the Commonwealth Institute, trebling its display space. Sir Terence Conran, its original founder, will partly fund the transformation.
This year heralds the establishment of the House of Illustration in the enterprising area of King's Cross, the site of St Pancras International, the British Library, the new home of Central St Martins School of Art and Design, new offices, residential developments, restaurants and trendy bars, King's Place for concerts, lectures and exhibitions, and Google's new offices. Kerb crawling in King's Cross, once notoriously endemic, is now an historical footnote.
The House is an ambassador for illustration, hosting exhibitions, conferences, lectures and workshops exploring the art of illustration. Future exhibits could include political cartoons, advertisements, scientific and architectural drawings, fashion designs and the graphic novel.
Quentin Blake spearheaded the establishment's birth. Its origins go back 12 years when Blake was wondering at supper with friends where his archive of over 4000 original drawings could be housed. Was there an appropriate warehouse or church hall? With the encouragement of colleagues involved in the performing and visual arts, eventually the search for an archival home turned into a quest to establish a 'home' for learning about historic and contemporary illustration, not just Blake's work.  In fact, there is currently no room at the House for the archive.
A small but especially meaningful part of the necessary funding was raised in 2010 by auctioning illustrations such as a comedic portrait of Tony Blair by Gerald Scarfe, an image of the witch Meg and her striped cat Mog by Jan Pienkowski and a butterfly by Eric Carle, who created The Very Hungry Caterpillar. In 2012 a further auction of 16 illustrations depicting a celebrity's favourite things raised more funds. For example, the actress Sheila Hancock bought Paula Rego's depiction of Ruby Wax with her gym shoes, among other loved items, for £10,000.
The museum occupies the ground and lower ground floors of a building designed in 1850 by Lewis (younger brother of Thomas) Cubitt, who also designed King's Cross station. The offices of the Art Fund are on the upper two floors. The building, originally conceived as the 'nerve centre' of the Kings' Cross goods yard, was heavily bombed during the Second World War. It was a requirement of the developer that part of the building be open to the public. The white-walled minimalist galleries are spacious, airy and light.
The inaugural exhibition, titled Inside Stories (until 2 November), explores how Quentin Blake has developed many of his creations, including characters featured in books by Roald Dahl such as Danny the Champion of the World and The Twits and Blake's own Clown. Roughs, storyboards, layouts and artwork demonstrate how his ideas have evolved.
We see the visual experiments Blake makes in order to determine the right shape and scale of some of his characters and the little details implying the nature of a character. We learn about the media Blake uses, such as ink (pens with a scratchy nib, reed pens made from bamboo, quills from turkey and geese and once a pen from a vulture, for example), watercolour (for which Blake might use sable brushes) and pastels.  We contemplate how scratchy, light, bold and broken strokes influence the perceived nature of a character.  Light, broken lines can give a feeling of whimsy. Thick dark lines can give a sinister air. I think of The Twits, in this respect.  For a scene depicting the free-spirited Daisy frolicking in a pond with her young friends  in Fantastic Daisy Artichoke, Blake used a waterproof pencil to make it look simple and goofy. We see how our perception of a story and its characters is influenced by the scenes depicted, and where they are placed within the text. Should the moments illustrated be whole or half page, or vignettes?
The use of a light box is vital to Blake. There he places his rough drawing, and on top of this he puts a sheet of watercolour paper. He doesn't intend to trace what lies beneath but rather use the base as a reminder of all the elements (facial expressions, gestures, gait) he has determined and where they should be positioned. This base sparks further creation.
In the inaugural exhibition one of the galleries is devoted to Michael Rosen's Sad Book, which makes one very, very sad but not lugubriously so. Rosen shares his feelings unsentimentally about the death of his son Eddie.  'Sometimes sad is very big. It's everywhere. All over me,' Rosen writes. He is funny too. 'Sometimes because I'm sad I do bad things. I can't tell you what they are. They are too bad. And it's not fair on the cat.' Blake's images of Rosen walking in a park throughout the seasons are very poignant, evoking the painful passage of healing time.
The defining nature of illustrative work means that it can never be created solely for the sake of aesthetics. It has other, meaningful purposes and jobs to perform. Even if illustration is not a collaborative venture, it still seeks to convey a message, explain and enhance. It collaborates, one could say, with a message. Moreover, both fine art and applied art may be beautiful. Architectural drawings spring to mind. I think of James Stirling's axonometric drawing, in ink, pencil and coloured crayon on tracing paper, of the Flory Building, Queen's College, Oxford, and Edward Lutyens's sketch in black ink and red crayon for his handsome Memorial to the Missing, St Quentin, France. Both are featured in the current magazine of the Twentieth Century Society.
In the book In All Directions – Travel and Illustration,  which accompanied the same-named touring exhibition in 2005, Blake suggests that defining illustration is a difficult, perhaps uncomfortable, exercise. He writes:
[…] but there is generally some sense of sequence, of narrative, of intimacy of scale [as illustration is created with the printed page in mind] so that an illustration, even if enlarged to the size of a wall still remains close to the gesture of the hand…In the various roles of illustration, the relationship between image and text, narrative and situation may change and vary. Sometimes the pictures tell the story, are the story; or they are intimate with words; or perhaps they may be a parallel sequence, reflecting on the text as they run side by side, evoking atmosphere.
In a workshop at the House of Illustration Blake admitted: 'I'm not sure what it is. I'm not quite sure where the edges of it come.'
Regardless of the academic muddles concerning definitions, and whether or not it is a 'fine art', illustration is especially worthy of appreciation because it can be realised in different ways. Paint, watercolour, ink, crayon and pastels, whether used separately or not, and stone and wood carving tools may be used to create the illustrative image. Created for reproduction, illustrations can be viewed all over the world: in a book, newspaper or magazine; on a billboard, on a wall; online, in film, on television. Printing processes enable the ubiquitous displays of illustrations, in a gallery or at home. Woodcutting and engraving, etching, lithography and other photomechanical processes enable Quentin Blake's creations to warm everyone's homes and hearts.
The essence of illustration is its helpfulness, its mission to share and transmit feelings and information in many different ways, globally. The House of Illustration will serve this purpose admirably. It will be a fine ambassador.
Notes:
Quentin Blake is best known for his illustrations for the children's books written by Roald Dahl such as James and the Giant Peach, and Matilda. He has illustrated books by Joan Aitken, Dr Seuss and John Julius Norwich. He has enhanced the range of illustrations commissioned by the Folio Society with his whimsical drawings for Candide, Don Quixote, Animal Farm and Cold Comfort Farm, among other classics. His own work is as enchanting as his collaborative work; examples include Patrick and You're Only Young Twice, which celebrates readers who are well over 21. He has also produced work for hospitals and health centres. Blake is a Patron of The Nightingale Project, a charity that brightens up mental health services with artwork and live musical performances. Blake has won several literary awards. He was the first British Children's Laureate from 1999 until 2001. Blake read English at Cambridge, attended the Chelsea College of Art. From 1978  – 86, he was head of the illustration department at The Royal College of Art. His first drawings were published in Punch when he was 16.
For opening hours and events, please visit http://www.houseofillustration.org.uk/.
The photograph of Quentin Blake at the gallery is ©David Rose and courtesy of the House of Illustration.
This article first appeared in Cassone: The International Online Magazine of Art and Art Books in the October 2014 issue.