Oh, friend, how very lovely are the things,
The English things, you helped us to perceive.
(John Masefield, in honour of Sir Alfred Munnings. These lines are engraved on an epitaph in St. Paul's Cathedral.)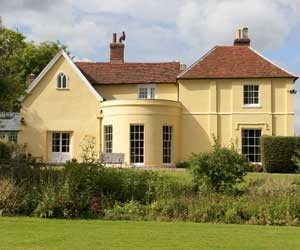 There are many small museums, which we never hear about, that are gems of enlightenment. One such jewel is the Munnings Collection of work by the equestrian and landscape painter Sir Alfred Munnings (1878–1959), at Castle House, the artist's former home, in the village of Dedham, in the heart of East Anglian Constable country.
Castle House is a handsome mansion, part Tudor and part Georgian, with a warm, welcoming atmosphere. 'I could live here easily and comfortably,' I thought as I looked at the paintings, watercolours and memorabilia displayed throughout the ground and first floor rooms, where some of the artist's furniture still remains. I imagined myself dressing for dinner, and later enjoying such dishes as roast pheasant with game chips or mutton with capers and anchovies, and champagne and primrose jelly. Sir Alfred loved fine food and wine and, indeed, he suffered greatly from gout.
There are grounds for strolling, a pleasant cafe and Munnings' former studio is also open. The 'castle' was Alfred's 'dream', as he said upon its discovery. For this very English Englishman was not born with a silver spoon in his mouth, as were many of the upper echelons of the equestrian world he portrayed.
Munnings was the second of four sons of a Suffolk miller, John, and his wife, Emily, born in Mendham, in the Waveney valley on the Suffolk and Norfolk border. The unspoiled countryside was his natural playground.
As boy and man, Munnings savoured the touch and smell of horses. Perhaps this passion was sparked when on his fourth birthday Munnings's father gave him a dun-coloured wooden horse. Riding a dapple grey horse on a roundabout at a country fair was also an inspiring occasion, and Alfred relished the times driving with his father through the country lanes with a pony and trap. His father taught him to draw horses. Together they sketched on the clean insides of torn-open envelopes. By the time young Alfred could read and write his artistic talent was clearly exceptional. His first sale was a drawing of a trace horse. Its owner, Mr Sewell, a wealthy farmer, gave Alfred five shillings for it.
At 14, Munnings was apprenticed for six years to Page Brothers, a Norwich firm of lithographers, where his draftsmanship and sense of good design were soon recognised and so valued that he was assigned to do work for the firm's most important clients.  John Shaw Tomkins, director of Caley's, a chocolate and biscuit manufacturer, always asked for Munnings, and also offered him freelance work and commissions, purchasing work for his own collection. During his apprenticeship, Munnings attended evening classes at the Norwich Art School, a centre of traditional English landscape painting.
James Reeve, the curator of the Norwich Castle Museum, commendably committed to re-establishing the artists of the Norwich School, introduced Munnings to the paintings of the John Crome  1768 – 1821, John Sell Cotman (1782 – 1842) and John Constable(1776–1837).  These painters, among others who had lived in the region, were inspired by the East Anglian landscape, its waterways, flat, fertile landscapes and expansive skies. They enjoyed painting en plein air, from direct observation. Munnings followed in their footsteps in a painterly fashion.
When he was nearly 20, Munnings was elected to the Royal Institute of Painters in Watercolour, and two of his works were accepted for the Royal Academy's 1899 exhibition. To celebrate he and a friend attended a day at the races.  He was enchanted by thoroughbred racing and the colourful gypsy fraternity that was very much part of the setting. For evermore they would be his subjects, together with his romantic scenes of rural life, and the illustrious equestrian milieu.
After his apprenticeship, Munnings returned to Mendham. He bought a carpenter's workshop and converted it into a studio. The Norwich Art Circle and Norwich art dealers, Boswells, bought his farm scenes, landscapes, pictures of horse fairs and local characters. He supplemented his income with poster and advertisement work, some of which is displayed in Sir Alfred's studio.
But Munnings's painter's paradise was disrupted when he was lifting a hound puppy over a fence. A thorn branch rebounded, permanently blinding his right eye. Yet Munnings never let his handicap stop him from painting, or thwart his increasing artistic success.  Eventually he was able to acquire his own horses to paint and ride, which broadened his artistic horizons. Riding to hounds was a life-long pleasure for him, though he never relished killing, and he never carried a gun.
For the next decade, Alfred sometimes led a vagabond existence. With a gypsy boy named Shrimp, a groom, ponies, caravan and cart of supplies he roamed East Anglia, stopping at just the 'right spot'. Other sources of inspiration were Geroge Stubbs' Anatomy of the Horse and trips to the Continent, financed by a client, Shaw Tomkins, where he admired the work of Degas, Bastien-Lepage and Monet, among others, and studied at the Academie Julian in Paris.
In 1910, Munnings started visiting Cornwall, where he befriended members of the Newlyn School of painters such as Harold and Laura Knight and founder member Stanhope Forbes.  He enjoyed painting the moorlands, cliffs, surf and stone walled farms of Cornwall in the day, with followers and hounds abounding, and revelling in the evening with the local artistic community, sometimes reciting with fervour his own humorous doggerels and poems. For a while each September he went to Hampshire in order to record the gypsies and hop-pickers gathering there to collect the cone-shaped flowers for making beer.
Owing to his impaired vision Munnings could not serve in the army, but in 1917 he found work as a 'strapper' testing horses for mange and other skin parasites. After eleven months he was chosen as official war artist to the Canadian Cavalry Brigade and recorded their manoeuvres in France. Forty-five of these pictures were exhibited at Burlington House in 1919. This led to Munnings' election as an Associate of the Royal Academy. (On Derby Day in 1926, he was elected as a full Academician.) People began to think of Munnings as a painter of consequence, especially the 'beau monde' of the turf.
Munnings married his second wife, a widow and fine horsewoman, Violet McBride, in 1919.  His first marriage, far from happy, had ended in tragedy, when his wife, the beautiful and talented Florence Carter-Wood, committed suicide.
Violet became one of Munnings' greatest assets. She managed his financial affairs and encouraged Munnings to focus entirely on his work, namely his ever-growing multitude of commissions. Two London exhibitions featuring his Hampshire subjects in 1920 and 1921 earned him enough money to purchase Castle House.
A visit to America in 1924 led to scores of commissions from Americans, especially wealthy hunting enthusiasts. Other patrons included Lord Astor, Lord Derby, the Prince of Wales, Queen Mary and the Rothschilds Although Munnings became firmly established as the most sought-after painter of the turf and field of his day, deep down in his heart he preferred depicting the landscape around him and the simple folk who tilled the fields and tended the horses, the rural and the real.  There were many times when Munnings resented his commissions.
Munnings' passionate love of horses and his ability to portray their anatomy accurately and vibrantly and their owners so handsomely distinguished him as an equestrian painter. As one who rode and bred horses, he was instinctively sensitive to their form, movement and character. His scenes were never static. While looking at his work, one feels as if one is watching moving pictures of life, on the farm or near the racecourse. 'I think Munnings was greater than Stubbs,' once said Augustus John. 'He made it move, had greater narrative quality and his groupings are better'. Munnings' pictures are particularly striking because they are imbued with a creative sense of light, dappling and beaming, and colours that are never bold but warming and full-bodied.
Munnings had no intellectual or theoretical artistic aspirations. He was contemptuous of the abstract. His own modernist tendencies were solely Impressionistic. In 1949, during his tenure as President of the RA, he presided over a banquet that achieved great notoriety on account of his vehement denouncement of 'so called Modern art'. He was scathing about the work of Picasso and Henry Moore. 'If you paint a sky, try and make it look like a sky,' he bellowed. Many were shocked by Munnings' reactionary perspective, his stinging candour.
Munnings indeed could never be described as a gentle man or gentlemanly. Yet, there were many who forgave his behaviour because of his great artistic talent and what they saw as his charming quirks of personality, rather than crass and bawdy eccentricity. You won't regret visiting his castle.
Notes:
The Munnings Art Museum and Garden, Dedham, Essex, http://www.munningsmuseum.org.uk/, holds over 600 pictures by Munnings. Works on view often change. There are often special themed exhibitions of Munnings' work. 
Munnings is a character in the film Summer in February, 2013, with Dominic Cooper and Dan Stevens, adapted from the novel by Jonathan Smith. The film is a fictionalised account of Munnings' experiences  among the artists in Cornwall. It focuses on the real-life love triangle between Alfred, his friend, Gilbert Evans, a reserved and courteous estate manager and former soldier, and the woman they both loved, Alfred's first wife, the beautiful and artistically talented Florence Carter-Wood. Did Florence choose the wrong man?
The photograph is of Castle House, courtesy of the Estate of Sir Alfred Munnings.
This article was first published in Cassone: The International Online Magazine of Art and Art Books in the November 2014 issue.