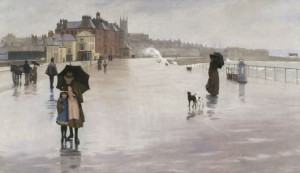 When people think of the artistic heritage of Cornwall, most envisage the St Ives artists, such as Ben Nicholson, Barbara Hepworth, Christopher Wood and Alfred Wallis, or the  younger, second-generation members, such as Patrick Heron and Terry Frost. Others recall engravings of Turner's pictures of the coasts of Cornwall and Devon.
Less well known (but not necessarily undervalued in the auction houses) are some of the early Newlyn colony of artists, including those known as the Lamorna group. They worked in and around the small coastal fishing village of Newlyn, about 12 miles south of St Ives, during the late 19th century. As teachers and companions, they influenced the work of later generations of British artists living in the Newlyn area. Some of their paintings are imbued with social realism, showing life in a rural Cornish fishing community, relatively untouched by the industrial revolution, towards the end of the Victorian era.
Penlee House, Gallery and Museum, in Penzance, has a large collection of work by the early and later Newlyn artists. Changing exhibitions are drawn from Penlee's permanent collection and from private and public collections. Once a spacious Victorian family home, Penlee House is now a thriving cultural establishment that receives 40,000 visitors each year. The atmosphere was bustling when I visited, though not too crowded. There are also galleries featuring photographs, artefacts and memorabilia reflecting the local area's archaeological, natural and social history and the decorative arts industries that once existed there. One may see examples of Crysede textiles, studio pottery (some by Bernard Leach) and Arts and Crafts copper work.
Artist Alexander Stanhope Forbes (1857–1947) discovered Newlyn by chance, while on a tour of Cornwall looking for a suitable place to settle and paint. He was delighted to discover the town, seeing it as a sort of English Concarneau, an area in Brittany where many artists, Forbes included, worked en plein air. To him every corner in Newlyn 'was a picture and. more important from the point of view of the figure painter, the people seemed to fall naturally into their places and to harmonise with their surroundings.'
In 1898, in The Cornish Magazine, he wrote: 'what lodestone of artistic metal the place contains I know not, but its effects were strongly felt, in the studios of Paris and Antwerp particularly, by a number of young English painters studying there, who just about then, by some common impulse, seemed drawn towards this corner of their native land.'
The extension of the Great Western Railway to west Cornwall in 1877 made it easier for the artists to visit Newlyn as they pleased. Accommodation was both plentiful and inexpensive; studios could be converted from fish lofts, though one had to accept the lingering 'aroma' of pilchards, mackerel and herring. The mild climate and the quality of the light that illuminated land and sea, would have appealed, as well as the camaraderie of like-minded artists. Amateur theatricals, informal dinners, and dancing and singing to the banjo, flute and piano were frequent diversions. Artists attracted to Newlyn encouraged others, with whom they had trained and worked at home and abroad, to bring their paint boxes.
One distinguishing attribute of the early Newlyn artists, of whom there were nearly 30, was that they were all influenced by their experiences studying and working in ateliers and en plein air on the Continent, notably in France, Belgium and the Netherlands. According to Caroline Fox and Francis Greenacre, in the catalogue for the 1985 Barbican exhibition of work by Newlyn artists, Newlyn spearheaded foreign influences.
Stanhope Forbes expressed the bond between the first generation of Newlyn artists in the Annual Report of the Royal Cornwall Polytechnic Society for 1900 (as noted in the above catalogue). Forbes felt that the movement did not represent anything new; it was simply that:
the tide had set in strongly in favour of out-of-door [en plein air] work, and a very thorough study of all its changing effects. It was a breath of fresh air in the tired atmosphere of the studios, and painters began to see that it needed more than a occasional visit to the country to get at the heart of its mysteries; that he who wished to solve them must live amongst the scenes he sought to render, and become thoroughly familiarised with every aspect of nature… In France the movement had made great headway, …fostered by the great school of painters who had made famous the little village of Barbican in the Forest of Fontainebleau. Under the spell of the genius of Jean-Francois Millet [1814–75], and the more recent and then living, Bastien-Lepage [1848–84], most of us young students were turning our backs on the great cities, forsaking the studios with their unvarying north light, to set up our easels in country districts, where we could pose our models, and attack our work, in sunshine or in shadow under the open sky.
Painting in the open air was the most binding principle of the early Newlyn artists. On a purely practical level, the fact that artists no longer had to mix their own paints made it easier for them to paint out of doors. Not only were the paints portable but also there was a richer, more vivid choice of colours than previously available.
The first generation of Newlyn artists shared a love for capturing the seemingly timeless rural life of the Cornish fishing folk, its simplicity and unpretentiousness. The fashions of Romanticism did not appeal to them. They avoided the exotic, the oppressively emotional interpretations of myths, biblical stories and historic events. Their palettes were restrained, the atmospheres subdued rather than dramatic, the figures and faces full of character but never stereotyped. Their work embraced a down-to-earth sense of humanity, sympathy, compassion and respect. They were not trying to shock, puzzle, or push the boundaries; their craftsmanship was exemplary.
Another distinguishing characteristic was their use of square-shaped brushes to blur outlines and reveal details of light and tonal qualities. The brushstrokes are not hidden from the eye. This rapid technique gives a highly expressive quality to the work. Shades are emphasised, creating a potent sense of atmosphere. One can see the use of this technique in Forbes' A Street in Brittany, 1881, and in Frank Bramley's Domino!, 1886.
The early Newlyn artists are often compared to the young Scottish painters known as the 'Glasgow Boys' (James Guthrie, George Henry, John Lavery and William York MacGregor, for example). They too shared a passion for realism and naturalism, but unlike the Newlyn artists their work emphasised vivid colour.
In 1882, Walter Langley became the first settler. Among other accomplished and permanent early settlers who followed were Edwin Harris, Henry Scott Tuke, Frank Bramley, Thomas Cooper Gotch, Stanhope and Elizabeth Forbes (née Armstrong), Frank Bourdillon and Norman Garstin. They not only portrayed the outdoors, but also painted startling and realistic interior scenes revealing the joys and anguish of the lives of the fishing folk.
The later generations of painters did not necessarily share the same distinguishing characteristics as their forbears. Some were more experimental. They included Samuel John 'Lamorna' Birch, Harold and Laura Knight, Dod and Ernest Proctor, Alfred Munnings and Richard Copeland Weatherby. Some form part of 'the Lamorna group'. Many were drawn to the area to study at the school of painting founded by Stanhope and Elizabeth Forbes in 1899.
Today many artists still work in and around Newlyn. It is well worth a visit to Penlee House to discover the foundations laid by their forebears, which still provide inspiration.
Notes
Jules Bastien-Lepage (1848–84), who inspired the Newlyn artists, grew up on a farm in Lorraine, France. He is known for his depiction of rural life, his powerful and sensitive sense of realism, and for encouraging plein air painting. He was also a successful portrait painter. He studied at Ecole des Beaux Arts working under Alexandre Cabanel. He established himself in the art world with Song of Spring, 1874, and Portrait of my Grandfather, 1874. He was influenced by Gustave Courbet, John Singer Sargent and James McNeill Whistler. 
Visit www.penleehouse.org.uk for more information about Penlee House, Museum and Gallery.
The image is of The Rain it Raineth Every Day, 1889. Oil on canvas, 94 x 163 cm,  courtesy of Penlee House Gallery and Museum. 
This article first appeared in Cassone: The International Online magazine of Art and Art Books in the January 2015 issue.