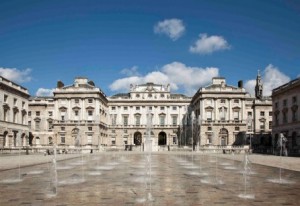 If you would like to learn more about art history, without studying for a degree or certificate, you could consider attending the public programmes run by the Courtauld Institute of Art. This is the fourth year in which I have attended the institute's Tuesday evening Showcasing Art History lecture series; I have also undertaken the four-day Introduction to Art History course and a one-week summer school course. Saturday Study Days focusing on special exhibitions, lunchtime talks exploring the institute's art collection and Study Tours are also features of the public programme.
The institute is a self-governing college for studying art history and has an outstanding collection of art, housed in the Courtauld Gallery. It is part of the University of London. The institute, including the gallery, is situated in the North Wing of Somerset House, an 18th-century, neo-classical, quite monumental, winged edifice encompassing an area between the Strand and the River Thames. It was once the home of learned societies and government departments. Present tenants include charitable entities, arts-related businesses and King's College London. During the winter months, there is an ice rink in the courtyard. When I arrive for winter lectures I always think of Christmas cards depicting Sir Henry Raeburn's painting of The Reverend Robert Walker Skating on Duddington Lock (c.1795).
There's a symbiotic relationship between the college and the gallery. The courses and lectures are run and presented by the academic staff, who are usually alumni, and the content is enhanced with references to gallery's artwork. Courses may include visits to the gallery and to the extensive conservation workshops and the Drawings and Prints Study rooms. Indeed, one of the Institute's founders, Samuel Courtauld, intended that students should work in 'intimate' contact with original works of art.
None of the some 75 lectures and two courses I have so far attended has considered works of art in insolation. Fine art is explored in its political, social, economic and thematic contexts. Lectures and courses explore visual culture. In keeping with an ethos established by directors of the institute decades ago, art history is viewed very much in relation to other humanities disciplines.
The calibre of the tutors and lecturers and the clarity of their delivery are exceptional. Their not infrequent humorous comments and anecdotal snippets of information add spice to the lectures. Several have read English, classics or history rather than art history as a first degree. One had trained to be an actor at the Royal Academy of Dramatic Art (RADA) before studying art history.
For all the public programmes, reading is optional. There are no exams, no essays and no qualifications involved. Learning is by listening, looking, questioning, debating and talking with new acquaintances.
I will give you a taste of some of the material covered.  For the autumn term of 2010, the theme was 'The real, the ideal and the abstract – means and ends of image-making in Western art.' In the third lecture, Dr Richard Williams lectured about 'The image of Elizabeth I: From idealism to deification.' At the time of the Queen's reign, royalty was viewed as Godlike, hence a painter would never paint a King or Queen with 'warts and all' – wrinkled and decrepit, not strong enough to rule effectively. Portraits of Elizabeth I made her look much more attractive – ideally beautiful with white skin and shiny hair, with no facial scars – and commandeering, stately – than she was in reality. The clothing depicted was symbolic. Was her skin really so healthy and porcelain coloured? (The whitening leaded make up must have been a great aid.) Perhaps painters were part of a Ministry of Propaganda, Williams suggested in jest.
In the spring term of 2012, the theme was 'Ways of showing: what experts do to art and how that affects the experience of seeing.' For example, how do lighting, space, explanatory panels, themed versus chronological galleries affect our perception of artwork? How does the use of the small screen, television for example, affect the public's reception of art? The summer term looked at work from the early modern historical period (c. 1450–1790), such as portraits by Rubens and sketches by Tiepolo, at the Courtauld in light of production methods such as printmaking techniques.
'On beauty: Changing definitions in late medieval to modern Western art' was the theme for the 2013 spring term.  One lecture examined ways in which our 'understanding of formal beauty changed with the advent of the machine age.'  Visual indifference became fashionable, it was suggested. Another lecture, titled 'Facing beauty' explored how cosmetics have influenced our painterly presentations of beauty and our perception of them. (See above regarding Elizabeth I.)
The summer school runs for four weeks and offers 32 courses, such as 'Cabinets of wonder: A history of museums in Great Britain,' and 'Might and magnificence: Court patronage in Renaissance Ferrara, Mantua, Rimini and Urbino.' This past summer I attended 'Émigrés: The impact of outsiders on English art, architecture and design, 1910–1940.' What influence did the German architect Walter Gropius, Hungarian architect Marcel Breuer (architect of New York's Whitney Museum) and Canadian Wells Coates have upon architecture in England?
One site visit entailed visiting the Victoria and Albert Museum 'warehouse' in West London to see furniture designed by Breuer and Hungarian Erno Goldfinger in the company of V & A Keeper and curator Christopher Wilk (an American). On the way along the Strand to the National Gallery to see the floor mosaics by Russian born Boris Anrep, we stopped to look at eight-foot-high sculptures by American Jacob Epstein on the façade of the diplomatic mission of Zimbabwe (once the headquarters of the British Medical Association).  The sculptures, created in 1908, represent the seven ages of man, and were deemed shocking at the time of their installation because of their nakedness and overt sexuality.
For the Summer School, programme manager, Dr Anne Puetz, aims for a rich and balanced timetable, covering many periods and regions, possibly within surveys and focused thematic investigations. Suggested courses are examined on their scholarly merit. Dr Puetz looks for fresh material based on the tutor's research interest. 'Showcasing is often topical, taking on themes that engage art historians at present, such as the Art and Technology summer term for 2015,' explains Dr Puetz.  Three- or four-day Study Tours focus on themes and destinations in which many short-course students have expressed an interest, such as 'Violence and Power in Early Renaissance Florence.'
Attenders come from many backgrounds with differing interests and levels of art expertise: art historians, students, people with a charitable, vocational or business-oriented interest in art, and those with a general interest inspired by the joy of learning. Wine is served after each Tuesday lecture and 'refreshments' for the short courses are very generous. Breaks encourage time to talk informally among new friends. There are plans to introduce an intermediate level introduction to art history.
Charitable arts and humanities organisations, such as the Bishopsgate Institute in London, further education colleges, auction houses, such as Christies, and many public galleries and museums offer courses exploring art history in varying depth and scope. What distinguishes the Courtauld's programmes is that they are orchestrated by people engaged in researching and teaching art history and related to the institute's art collection, exhibitions and artistic facilities. They draw upon a wide context of artistic endeavour, which other institutions are not always able to do.
One could, with a bit of ingenuity, learn from the public programmes as much as one does in art history degree standard courses, possibly more economically and with more flexibility of timing. Not everyone has the money and time to acquire that piece of paper. Perhaps degrees are over valued and life-long learning, within  less formal contexts, is undervalued. If you thirst to learn more about visual culture you will appreciate what the public programmes at the institute, and surely others elsewhere in the world, have to offer. Your senses are likely to be touched with visual and intellectual pleasure, though I won't dare to guarantee this for fear of being accused of zealotry.
Notes:
For more information about the educational programmes at the Courtauld Institute of Art and the Gallery, please visit http://courtauld.ac.uk/. This site has an illuminating and detailed introduction to the history of the Courtauld Institute.
The Institute's founders wanted to improve understanding of visual arts in Great Britain through academic research and formal study. But as the Institute explains, this was contrary to a 'deep seated insular conviction that the arts were the playthings of the rich and not a suitable subject for a university education.'
Yet the founders, diplomat and politician Viscount Lee of Fareham, Samuel Courtauld and art historian Sir Robert Wit, persevered. Courtauld, of the textile business family, was the major financial backer. He loved paintings and wrote poems about them. He bought French Impressionist paintings. He leased his house in Portman Square, together with his art collection, so that it could be the new Institute until permanent accommodation was found. Sir Robert Witt and Viscount Lee (who donated Chequers, his country house, to the nation as a retreat for those serving as the prime minister) also donated collections of paintings and drawings. The Institute was established in 1932. The notorious Anthony Blunt was once a director.
The gallery features a collection of paintings, drawings, sculpture and decorative arts from periods ranging from the Renaissance to the present day. The collection of Impressionist and Post-Impressionist paintings is especially impressive.
The photograph shows the exterior of the The Courtauld Gallery and Institute, seen form the courtyard of Somerset House, part of which becomes an ice rink in the winter months. © Marco Beck Peccoz, courtesy of the Courtauld Institute. 
This article first appeared in Cassone: The International Online Arts Magazine of Art and Art Books in the January 2015 issue.