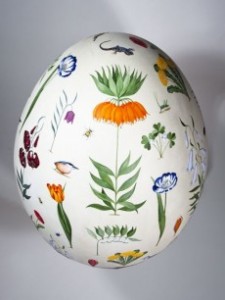 We felt as if we could walk on water when our bid for the painting entitled Hemlock, by Tessa Newcomb, one of our favourite living artists, was accepted. We were at a winter charity art auction for the Sharon Spratt Trust at the Crane Kalman Gallery. Sharon Spratt had been a much-loved Director of the Gallery. The charity helps cancer sufferers by providing small-scale services, goods and memorable treats: for example, a family dinner in a restaurant during a sufferer's last days, enabling a teenage sufferer to meet a Chelsea Football player, a television for a cancer ward.
The Crane Kalman charity auctions are low key: no glitz, no extensive advertising, raising thousands not millions. Champagne and canapés are 'on the house'; the Gallery or the artists donate the artwork. There's no buyer or seller's premium. People come to give, possibly acquire, but not to be seen in celebrity realm. Perhaps, like us, they'd been wishing to add to a collection of a featured artist's work, but were wary of spending on relative 'luxuries' in recessionary times. Given the chance to give to a great cause and have a beautiful painting, they relent and raise the hand of promise.
Tessa's paintings are particularly appropriate offerings at a charity auction, being imbued with joyous and hopeful sentiment and a spirit of giving essence and lacking fashionable angst-ridden messages. Mostly set in East Anglia, they depict people nurturing fields, gardens and allotments, with wild flowers, animals and birds in flight, and seascapes with fishermen. Tessa uses soft, harmonious colours, sweeping brush strokes and simple shapes. (One likens her work to that of Winifred Nicholson.)
But not all charity art auctions are as subdued as Crane Kalman's. Have you heard about The Big Egg Hunt, running from 21 February until 3 April? It's in aid of Elephant Family and Action for Children, and is presented by Fabergé with support from other big-name sponsors, such as the London Evening Standard and Savills Estate Agents
Participants hunt throughout central London for over 200 eggs, each one over two-and-half feet high and mounted on charcoal grey plinths, and specially decorated by a well-known artist, designer, architect or jeweller. One should look out for the creation by Marc Quinn. Conceiving of the egg as the beginning of the world, he has imprinted his white egg with the merged fingerprints of a man and a woman.  The Humpty Dumpty, signed by the Prince of Wales and The Duchess of Cornwall, is designed by the Prince's Drawing School.
Maps of the 12 occupying zones are online. When you come across an egg, you send a text using a unique keyword noted on the plinth. The text ensures automatic entry for a prize draw for The Diamond Jubilee (Fabergé) egg, valued at £100,000. Once you register – a mandatory £3 donation – each text entry is 25p, of which 10.3p goes to the two charities.
I'm hunting, too. My favourite one so far is by Rebecca Campbell, nesting on Duck Island in St James's Park, in front of a pastiche Swiss chalet, once the Park's bird-keeper's home. (I won't share the keyword!)  In gentle spring colours, insects, small birds and delicately depicted spring flowers: poppies, lilies, tulips, cow slips, Solomon's Seal, with pale green slender stems – grace its creamy white shell. The composition is elegantly restrained.
'The egg represents new life, just like spring,' explains Rebecca, when I contact her to praise. (She must share Tessa Newcomb's hopeful spirit.) Campbell's work is inhabited with the natural world – well-ordered gardens and farms. There are occasional touches of warm humour: a flock of sheep nibbling in a meadow with a sign not far off, 'keep off the grass'. In the light of Rebecca's work, I recall the child-like innocence of Henri Rousseau.
Rebecca tells me that she was given two weeks to 'give birth' to her egg, which she painted with acrylics and then varnished. The organisers reimburse the artists for the cost of materials. Although commissioned, the artists must still submit designs for approval.
Rebecca is thrilled to participate. 'For me it's a way to give to a cause I care deeply about – the Elephant Family, which works to save the wild elephant from extinction in Asia,'she elaborates.
'Over recent decades,' Rebecca reflects, 'the elephant population has plummeted by 90% as a result of conflict and loss of habitat. I've a natural affection for elephants. I used to collect elephant ornaments as a child. About ten years ago I heard a lecture by Mark Shand [the British travel writer and conservationist who established Elephant Family] about the endangered elephant. I'd no idea about their threatened existence. Afterwards I travelled extensively around India. Their plight became all the more meaningful. I was drawn to Mongol miniatures with elephants.' Rebecca has also decorated elephants for other Elephant Family charity parades.
What attracts me especially to hunt is the other benefiting cause, Action for Children. The charity supports 50,000 vulnerable and neglected children and their families with counselling and practical measures such as clean clothes and regular meals.
There are also other egg-static events, such as bidding online to buy one of the sited eggs, and viewing them all at a soon-to-be-announced location. You can also apply to attend an exclusive ticketed banquet with auction of 30 ultra eggs-travagant eggs run by Sotheby's, such as a very expensive chocolate egg by Chocolatier William Curley. Why not get cracking now?
Elsewhere in London during the spring there are two other notable celebrity charity art auctions, but they do not offer grounds for hunting.  Shelter, the charity for the homeless, has launched 'Up My Street'. Forty celebrated artists (for example, Jake and Dinos Chapman), photographers and designers have created or donated an artwork evoking an aspect of a street that they find especially emotive. The work will be auctioned live on 8 March; arrangements are still being finalised. Online bidding is now open; you can view the work from the 5 until 8 March in London at the Coningsby Gallery.
The auction is a sequel to two other previous Shelter art auctions (live with online bidding, too). In 2009 Shelter held the 'House of Cards'.  Well-known designers and artists created representations of chosen playing cards, 20 of which were offered at a live auction including silent bids. The late Alexander McQueen, for example, created the King of Spades. In 2010, Shelter launched '52 Weeks', each week enthusing a different well-known artist. Grayson Perry donated a ceramic house recalling the week when in 1966 the BBC first aired its landmark documentary, Cathy Come Home, directed by Ken Loach. The film told the tragic story of a young couple who lose their home after the husband loses his job. The social services take their child away. The broadcasting of the plight of the homeless encouraged people to face this very real 'refuse to go away' aspect of contemporary life, firing the formation of both Shelter and Crisis, another charity for the homeless.
Indeed, Crisis is also engaging in a charity art auction this year ('Crisis Commission'). Collectors can bid at a live auction at Christies – there's no buyer's or seller's premium – on 3 May for art by leading contemporary artists, such as Sir Anthony Caro and Tracey Emin, which reflects the themes of isolation, property, security, and space. The works are on view at Somerset House between the 14March and the 22 April. What is unusual about this event is that artwork by homeless persons receiving support by Crisis will be displayed alongside that of the established artists.
Judging from the growing increase in charity art auctions of varying scale and genre, this means of fundraising is successful and likely to become a regular fundraising tool. Interestingly, though, some consider that the artists receive a raw deal when they donate artwork, automatically forfeiting a potentially decent commission and sale proceeds; there's the risk that the work will be auctioned for less than market value. But although the reward of the 'joy of giving' to a needy cause may not pay the bills, a once in a while indulgence shouldn't spark addiction. Publicity gives benefits and can help smooth the path to fame and fortune. Obviously, very successful artists can afford to indulge in generosity.
Equally, the buyer experiences the pleasure of giving but is also assured of the 'joy of getting'. You can sell the goods in straitened times. While one can bank the memory of a razzle-dazzle charity gala dinner for £200 per ticket, perhaps there's little else to take home that's tangible (indigestion?).
Moreover, the charity art auctions that involving bidding through digital technology enable people all over the world to participate, especially those shy of the auction house because of its elitist, exclusive image.  The fact that the artwork is contemporary, by living artists and of mixed genres, informs and enthuses. Charity art auctions are well worth a high bid.
Notes:
For further background information, please visit  www.rebeccacampbell.co.uk,  england.shelter.org.uk, www.actionforchildren.org.uk,  www.elephantfamily.org and http://thesharonsprattandcarolinethomastrust.org.uk/
Photograph of Spring, painted by Rebecca Campbell, for the the Big Egg Hunt. © Rebecca Campbell.

This article first appeared in Cassone: The International Online Magazine of Art and Art Books in the March 2012 issue.