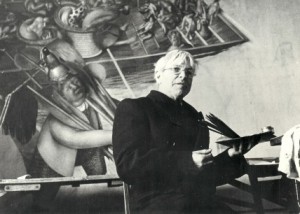 For most of his life, Stanley Spencer (1891–1959) lived in the charming Thames riverside village of Cookham. Villagers' eyes glinted upon the sight of the spritely, barely five-foot-tall man with pudding bowl haircut and ungainly glasses, striding through the streets, past church and chapel, wheeling his rickety pram stuffed with easel and paints.
And he was always one for conversation. In Joan George's anthology, Stanley Spencer Remembered, photographer John Neal recalls: 'he never seemed to be tired. He had a chirpy, chatty personality and always showed an interest in topical events or local characters. Invariably he 'knew their parents' or recalled adventures of his neighbours…for me he was Mr Cookham'.
'[I] couldn't get over the idea that a famous artist lived in a house you could simply go to, and indeed walk into. He never kept his front door locked,' reveals local artist Faith O'Reilly. Viscount Astor, who lived nearby at Cliveden, and the villager Miss Lisl Malkin remember Spencer wearing his pyjamas under his shabby clothes. This made retiring to bed easier, he explained.
Some locals recall Spencer's technique. The late Prue Wallis-Myers, also an artist, remembers learning that during the Second World War, when Stanley was an Official War Artist, he was commissioned to paint the Glasgow shipbuilding yards: 'the men called him their "mascot", not only on account of his size, but also because of his great interest and enthusiasm for their work. If he was unable to sketch the men at work, he would practise the positions they took, and looking in the mirror draw the result. He borrowed a pair of trousers from a boy so that he could study the folds that the man would make while he was working'.
When Mrs Carolyn Lucas told Spencer that she was attending life drawing classes, he pronounced: ' "drawing was the basis of everything:  "It is the bones of the thing…The brushwork is merely the knitting'''.
Stanley's studio was his bedroom. There he would place his huge canvases on the wall. John Neal recalls that his canvas: 'would be half unrolled like a Jewish scroll, propped up on a pile of books, and he would stand on a chair to reach the extremities of the canvas. He used very small brushes and the area he was painting was lit by an Anglepoise lamp with a crude blue bulb to simulate daylight'.
Composition was vital.  Spencer would draw studies for his paintings, which were squared for transfer, redrawn on the canvas and painted section by section – he might have appreciated David Hockney's iPad!
Spencer's oeuvre doesn't sit comfortably in the context of artistic vocabulary ending with an 'ism' or an 'ist', or association with a movement or 'group'. Discussions of influences refer to Michelangelo and Giotto, the Pre-Raphaelite William Holman Hunt, Gauguin, the Neo-Primitive Henri Rousseau, and the writing of John Ruskin. But on the whole, Spencer never seriously concerned himself with ideology, stylistic innovation, and organizations. Keith Bell comments: Spencer 'took any suggestions of influences on his work as a direct threat to the purity of his vision'.
Spencer's colours are subdued, warm, evoking those of spring and autumn, rather than the starkness of winter or the boldness and vibrancy of summer. His paint textures are subtle, sparing.
The landscapes and garden scenes are remarkable for their meticulous detail of the natural world in the forefront, and backgrounds that are relatively more atmospheric and suggestive of place. Unfortunately, Spencer disparaged these works, reckoning they lacked spiritual enrichment and inspiration. But they were popular, for they idealized the heart of England – the quintessential nature of the English countryside and 'olde world' village life: lush, dew-soaked meadows, fields and gardens, and houses built in the vernacular style; all that many feared could soon be lost.
The words fleshy, frequently tubular, and sometimes slab-like and rectangular, describe Spencer's scenic figures. Often faces are nearly featureless, although the tonality and positioning of the heads are expressive. Eyes appear in deep concentration. The portraits are remarkable for their warmth despite their uncompromising realism.
Unfortunately, Spencer was severely criticized for what many viewed as his unattractive, 'grotesque' distortion of the human form. In some cases this was viewed as 'blasphemous'. The most famous controversy concerned St Francis and the Birds (1935), in which St Francis is preaching to ducks and hens and chicks, near Fernlea, Spencer's childhood house.  The ample, bulbous girth and head of the saint offended many onlookers, but Spencer 'justified' the shapes by explaining that they symbolized the teachings of St Francis, which 'spread far and wide'. The forms are part of nature, what Christ revered; and Spencer, like Christ, embraced the imperfections of humankind – the sick, the infirm, the ugly, the damned – and well as the young and beautiful. Why shouldn't we? When the hanging committee of the Royal Academy rejected St Francis in 1935, Spencer resigned as an Associate.
For his figural paintings – viewed as erotic, brutally realistic and by some accounts 'ugly'– one may place Spencer in the context of Lucian Freud and Francis Bacon.  Indeed, if Spencer had been a contemporary of these artists, it's likely that these images would not have been so controversial.
Spencer did not regard intimations of the sensuous as sacrilegious. Not surprisingly, he believed in a tolerant form of Christianity, eschewing the suffocating sense of 'Victorian' morality. He idiosyncratically found support for his espousal of sexual freedom within readings about Buddhism, Hinduism, Taoism and Islam.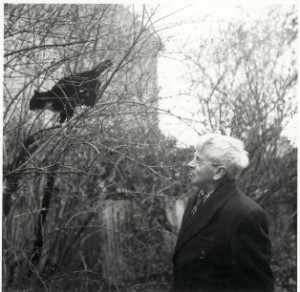 Spencer's tolerance of humanity and all its foibles is evidenced in his artistic celebration of the industry of the commonplace – ordinary everyday living – gardening, sorting the laundry, hanging up the washing, scrubbing the floor, filling the tea urns. It was his view that in the eyes of God, all human activity is equally important.
Indeed, if you follow Spencer's footsteps today through Cookham, along the River's edge, over the meadows and marshes, and climb atop the softly rolling hills, you'll discover that the provincial innocence of what Spencer called his 'earthly paradise' still exists. You'll appreciate why in 1962 local residents established the Stanley Spencer Gallery in a former Wesleyan chapel in Cookham, where Spencer used to worship. The Gallery holds some 130 oil paintings and works on paper. It is recognized as a centre for Spencer studies. The developing archive holds correspondence, photographs, press cuttings, books, research papers and oral history recordings with and by people who knew Spencer.
When I first visited the Gallery years ago I found it damp and gloomy; the genius of Spencer's work compensated for the dour atmosphere. But now, after a substantial refurbishment in 2007, the Gallery is very bright and airy, so much more attractive with the windows in the east wall revealed and a wide open mezzanine floor at one end allowing for more hanging space and a study area. The small reception area is well stocked with books, prints and cards. Volunteer staff enthuse about the space and the painter.
The Gallery celebrates its 50th anniversary with the exhibition Spencer's Earthly Paradise (on now until 4 November 2012), featuring the best of its collection and several of Spencer's finest works borrowed from the Tate and private collectors: 50 works in all. We are treated to an eclectic choice.
Three self-portraits in oils, spanning Spencer's adult life, are not altogether flattering but powerfully imbued with character. There's an enchanting wool tapestry woven by the Dovecot Studios, originally based on a Spencer drawing of a man holding cabbages and women spiking chestnuts in a field.  There are works from the series, painted between 1935 and 1936, depicting events surrounding the baptism of Christ, set in the context of Odney Weir where Spencer bathed. One painting, with acute modern day relevance, is Christ Overturning the Money Changers (1921). We see the infamous St Francis and the Birds (1935) and the enormous canvas of the unfinished Christ Preaching at Cookham Regatta (1952–9), where Christ perches on a basket chair in a horse-ferry barge in front of casually assembled villagers. Here one observes the bare bones of Spencer's squaring and transfer process at work.
There are the fertile landscape paintings and domestic scenes. I savour my favourite Spencer portrait: that of Eric Williams (1954), famous for the 'Wooden Horse' escape while a prisoner of war. The poignancy of the image is startling, with its handsome sitter's sideward, almost saddened, gaze, seemingly taking his thoughts and ours far away, the gentle tones of greys and browns, the detailed stitches of the sitter's pullover.
There's more that I would like to share with you about Spencer, but space does not permit; there's enough on the canvas to stimulate reflection. More could cloud the essence of the man, the creator of an unusual sense of aesthetics, with compassionate views of human nature and religion. A substantial retrospective at a major gallery would gain him further deserved appreciation. But the most meaningful place to appreciate Spencer is at the Stanley Spencer Gallery. There one feels as if he's watching from above, with a redeeming air, awaiting resurrection.
Notes:
A time line for Stanley Spencer, CBE RA…
1891:  born as  the eighth surviving child of Anna and William Spencer, organist and piano teacher. Educated at home.
1907:  studied art, Maidenhead Technical Institute
1908 –12:  attended Slade School of Art. Contemporaries included R.R.W. Nevinson, Mark Gertler, David Bomberg & Paul Nash.
1912: Exhibited at Roger Fry's Second Post Impressionist Exhibition.
1915- 18: enlisted in Royal Army Medical Corps, posted to Macedonia with Field Ambulances, volunteered for infantry.
1919: as Official War Artist painted Travoys with Wounded Soldiers.
1925: married Hilda Carline. Daughter Shirin born.
1927: first one-man show at the Goupil Gallery.
1930: daughter Unity born.
1930s: notable series of 'erotic' and disturbing paintings, in particular of Patricia Preece, later his second wife.
1937: divorced by Hilda and married Patricia Preece; separated almost immediately. The marriage was never a happy one, causing Spencer great distress and scandal.
1938: represented by 22 paintings at the Venice Biennale.
1940 – 46: as Official War Artist, commissioned to paint pictures of Glasgow shipyards.
1950: created C.B.E., re-joined the RA as RA, made a Fellow of University College, London.
1958: painted the Crucifixion, for Aldenham School Chapel, now in private collection. Made a Fellow of the Royal College of Art. Retrospective exhibition, Holy Trinity church and vicarage, Cookham, attended by 25,000 people.
1959: knighted. Dies at Canadian Memorial Hospital, Cliveden.
For information about the Gallery's opening hours, please visit http://www.stanleyspencer.org.uk/.
Photograph of Stanley Spencer with Christ preaching at the Bookham Regatta, c. 1958. ©Stanley Spencer Gallery. Photograph of Stanley Spencer with neighbour's cat, by John Neal, ©Stanley Spencer Gallery.
This article first appeared in Cassone: The International Online Magazine of Art and Art Books in the March 2012 issue.